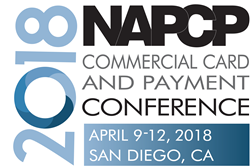 The NAPCP's Annual Commercial Card and Payment Conference is the can't-miss event for industry professionals.
(PRWEB) November 15, 2017
The launch of the NAPCP's 2018 Commercial Card and Payment Conference sessions and speakers signals an event with the breadth, depth and variety to address the needs of industry professionals--regardless of sector, program size or experience.
The first confirmed sessions are eight of almost 80 breakouts that will be offered at the conference. The first seven confirmed speakers--the first of 60 total--have a combined professional experience of more than 120 years. Watch for weekly updates as new sessions and speakers are confirmed.
Get started with sessions that address some of the industry's most-talked about subjects and issues:

Maximize ROI and identify risk with data-mining tools
Create home-grown audit tests that identify the riskiest transactions
Establish policies to support mobile innovation from the end-user's experience
Bridge the gap between growing organizational needs and a status quo payments program
Implement tactics to make communications easier and more effective
Combat fraud with detection, follow through and education
Leverage the power of Commercial Cards in emergencies
Learn the RFP process: what it costs, what to include and how to move forward with a new provider
The conference serves professionals working in corporate, government and education arenas. Below are some of the more than 60 speaker organizations:
Altria Client Services
Commonwealth of Virginia
Denver Public Schools
Meritor, Inc.
ONE Gas, Inc.
Rogers Communications
Sempra Energy
University of Phoenix
It will all be waiting in San Diego, April 9-12, 2018, along with so much more. Don't delay! Register now to save a place at the industry's premier conference.
About the NAPCP
The NAPCP is a membership-based professional association committed to advancing Commercial Card and Payment professionals and industry practices worldwide. Serving a community of more than 20,000, the NAPCP is a respected voice in the industry and an impartial resource for members at all experience levels in the public and private sectors. The NAPCP provides unmatched opportunities for continuing education and peer networking through its conferences, Regional Forums, webinars, website, virtual demonstrations, newsletters and regular communication. The association sponsors research and publishes timely and relevant white papers, survey results and other documents. The NAPCP offers a Certified Purchasing Card Professional (CPCP) credential (http://www.napcp.org/cpcp).