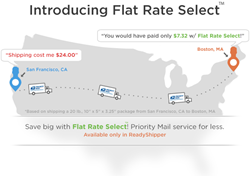 "Flat Rate Select puts more green in retailers' pockets this holiday season and beyond, and is the perfect pairing to ReadyShipper X and ReadyCloud CRM as the all-in-one multichannel solution for e-tailers."
Scottsdale, Arizona (PRWEB) November 15, 2017
ReadyCloud (https://www.ReadyCloud.com) is helping online retailers ship more and save lots this holiday season. These instant USPS shipping savings comes in the form of Flat Rate Select—which will put more green in the pockets of shippers this season with savings that can reduce USPS Priority Mail postage fees substantially.
Flat Rate Select is a discount USPS Priority Mail shipping option, exclusively available as a feature in all active licenses of ReadyShipper X, a premium shipping software plugin that's now available for ReadyCloud CRM. Users of ReadyShipper X gain immediate access to the built-in discounts that get them to the lowest rates on USPS Priority and Express Mail packages (up to 20-pounds).
Recent studies on shipping prices and delivery time show a direct correlation to online sales, loyalty and retention. Over 67% of consumers want an expedited delivery option, while 78% of them are happy to pay for ground if they know the order will arrive in 10 days or less. But 87% of shoppers say they have abandoned a cart over the past year simply due to the cost of shipping.
With Flat Rate Select, online retailers can help reduce their abandonment rates by offering a discount, expedited shipping option for customers on all their smaller, heavier packages. An inclusive feature of ReadyShipper X, users can sort their shipments and apply the Flat Rate Select discount option for instant savings on reliable USPS Priority and Express Mail shipments with easy, real-time rate comparisons between postage providers.
"As the holiday shipping season is underway, retailers all share a common woe: Their shipping cost can really eat into their margins," explained Michael Lazar, Executive Director of Marketing at ReadyCloud CRM. "Flat Rate Select puts more green in retailers' pockets this holiday season and beyond, and is the perfect pairing to ReadyShipper X and ReadyCloud CRM as the all-in-one multichannel solution for e-tailers."
Learn more about Flat Rate Select by visiting: https://www.readycloud.com/discount-usps-flat-rate-select.
Visit ReadyCloud online to learn more at: https://www.ReadyCloud.com. Or call toll-free at: (877) 818-7447.
About ReadyCloud:
ReadyCloud e-commerce CRM is compatible with the most popular online marketplaces and shopping carts. It instantly creates detailed and data-rich customer profiles that feature order, sales, shipping and returns history, complete with calendar, notes, detailed reporting, and a growing list of apps and integrations. ReadyCloud offers powerful plugins that expand its functionality (available for an added monthly fee), including e-commerce shipping software (ReadyShipper) and an automated online product returns solution (ReadyReturns).
New users can start a complimentary 14-day trial of ReadyCloud by visiting: https://www.ReadyCloud.com.