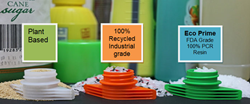 The real challenge is testing the fitment. How will it work when inserted? What are its limitations? What happens to the fitment during insertion?
OSWEGO, Ill. (PRWEB) November 16, 2017
Pouch fitment/weld spout manufacturer HQC Incorporated has been leading progress in developing products from sustainable materials.
The company has been testing two 100% recycled materials for moldability and inserting compatibility, one an industrial grade and the other the EcoPrime™ resin from Envision Plastics (http://www.envisionplastics.com). The EcoPrime resin earned a Letter of No Objection from the U.S. Food and Drug Administration, making it favorable for food packaging.
In producing sustainable pouch fitments/weld spouts, HQC has been experimenting with them as 100% EcoPrime resin and at different ratios of EcoPrime resin to virgin resin. Results have been highly positive. Enhancements to both the molding process and seal bars have allowed the EcoPrime resin to rival certain 100% virgin petroleum–based materials.
HQC's rigorous testing during the last two years also has included mixed material lots. This helps ensure multi-source material is consistent enough to prevent quality issues during production.
Currently, HQC is molding a closure with a tamper-evident band while working with a major film company. The aim is to insert the pouch fitment/weld spout into an all-polyethylene pouch and use a closure and a fitment made with the EcoPrime resin.
HQC is testing a plant-based material for blending with the EcoPrime resin as well. Creating a closure, a fitment and a pouch from the blend would make the product fully sustainable and recyclable without having to sort the closure and the pouch.
"Producing a pouch fitment/weld spout is the easy part," said HQC President Blair Pasternak. "Making the right fitment for the application, the film and the product in the pouch is a bit tougher.
"The real challenge is testing the fitment. How will it work when inserted? What are its limitations? What happens to the fitment during insertion? These are the questions that need to be answered before a fitment material is selected and used in production. We're here to help businesses excel in this area whether they're just starting out or already advancing."
By testing for consistency and performance, HQC also has discovered process changes that enhance seal strength and decrease cycle time. It has identified advantages through seal-bar design as well. Certain adjustments increase fitment-seal strength even with a standard film structure – in some cases by more than seven times the original pounds per square inch.
HQC Incorporated specializes in plastic scoops, custom molding, CT closures and pouch fitments for the food & beverage, personal care, medical devices and flexible-packaging markets. As creative problem-solvers, HQC serves companies looking to master manufacturing challenges through swift response times, innovative designs, and prompt prototype turnarounds. For more information, please call (630) 820-5550 or visit http://www.hqcinc.com.