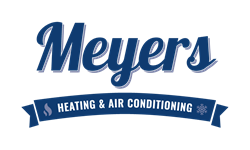 "This new Healthy Home program aims to give customers peace of mind," said Ed Minnick, owner of Meyers Heating & Air Conditioning. "Too often we find people who have lost their heating at a crucial time. This program helps homeowners avoid these kinds of problems."
Boulder, CO (PRWEB) November 16, 2017
Don't want to be left in the cold this winter if the furnace stops working? To avoid a furnace breakdown during the cold winter months or over the holidays, Boulder-based Meyers Heating & Air Conditioning is introducing a new Healthy Home program. Residents in Boulder and surrounding areas can make sure their furnace is ready for winter and their heating and cooling needs are in good shape all year long.
According to the Department of Energy, home furnaces and boilers should be regularly checked and maintained by a heating system professional. In addition to evaluating furnace operating efficiency, furnaces should be inspected for cracks, leaks, corrosion, and seals to ensure safety.
"This new Healthy Home program aims to give customers peace of mind," said Ed Minnick, owner of Meyers Heating & Air Conditioning. "Too often we find people who have lost their heating at a crucial time. This program helps homeowners avoid these kinds of problems."
Meyers Healthy Home program costs just $165 per year and provides an annual maintenance schedule including 37-point inspection and tune-up for furnaces and air conditioning systems. Home furnaces and air conditioning systems are maintained and validated to reduce the risk of expensive breakdowns, increase efficiency, reduce energy costs, and prolong systems by 30-50%.
Customers also receive priority service, fast response, 24-hour/7-day-a-week emergency support, and discounts on repairs and air quality accessories.
Meyers Heating & Air Conditioning has served the Boulder community for more than 55 years. Specializing in heating, ventilation, and air conditioning (HVAC), Meyers offers residents throughout Boulder County with complete HVAC services to a high standard. Meyers focuses on providing services within a green initiative that strives to maintain systems over replacement, improve energy efficiency through unit maintenance, and prolong the life of home comfort systems.
"For more than half-a-century we've provided Boulder customers with heating and air conditioning services," said Minnick. "The Healthy Home program helps customers get even more value for their money."
Meyers Heating & Air Conditioning is located at 260 Pearl Street, Boulder, CO and can be reached at (303) 442-6640. Meyers is an A+ rated with the Better Business Bureau, is licensed, insured, factory trained, and offers 100% guaranteed work.