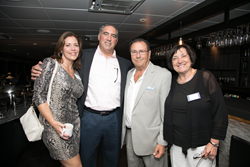 "We couldn't have had a more perfect evening to commemorate this milestone marking more than two decades of service, and this event wouldn't have been possible without the faith of our clients." -Nick Giacoumakis, President and founder of NEIRG
North Andover, Massachusetts (PRWEB) November 16, 2017
New England Investment and Retirement Group (NEIRG) recently held a momentous anniversary and client appreciation event in Boston, celebrating 22 years of wealth management, and acknowledging the extraordinary group of clients who have made this anniversary possible.
The event, a dinner cruise held at Odyssey Cruises of Boston, was an incredible opportunity to show appreciation for the hundreds of clients who have trusted NEIRG to help them achieve their goals. The evening was filled with thoughtful dialogue and a relaxed atmosphere provided by the breathtaking views of Boston.
"This event was held to extend our deepest gratitude to our clientele, who are the foundation leading us to enjoy this celebration," said Nick Giacoumakis, President and founder of NEIRG. "Upon the creation of this company we have always sought to put our clients first. We couldn't have had a more perfect evening to commemorate this milestone marking more than two decades of service, and this event wouldn't have been possible without the faith of our clients."
It is New England Investment and Retirement Group's pleasure and ongoing mission to help our clients pursue financial independence by providing unbiased objective guidance. We bring value through communication, education and exceptional service.
About NEIRG
Established in 1995 by Nick Giacoumakis, New England Investment and Retirement Group, Inc. is a flourishing 14-member firm that offers investment management and financial planning services for individuals and families. The NEIRG team takes pride in providing unmatched, personalized service to its clients and has utilized its collective expertise to effectively guide clients in achieving and preserving financial independence. Based in North Andover, Massachusetts, NEIRG manages over $500 million in assets.