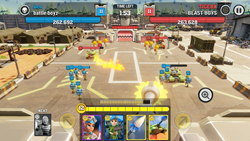 Mighty Battles leverages Hothead's industry-leading expertise in the shooting genre to offer a whole new twist on lane-based arena games.
Vancouver, British Columbia (PRWEB) November 16, 2017
Epic head-to-head arena battles… fast-paced shooting action… tons of mighty units to collect: this new game has it all. Hothead Games, developer and publisher of the highly successful Kill Shot franchise, today announced the official launch of Mighty Battles, the first battle arena shooter game on mobile.
Now available on the App Store and Google Play, Mighty Battles leverages Hothead's industry-leading expertise in the shooting genre to offer a whole new twist on lane-based arena games. The game combines shooting and tactical strategy with card collecting, events and real-time 1v1 matchmaking to deliver a battle experience never seen before on mobile devices.
Watch the launch trailer at https://youtu.be/GM8nzNLqJ1I.
In exciting live multiplayer battles, players must destroy enemy bases by shooting down advancing attacks and strategically deploying waves of specially trained units. Only by building a superior squad and effectively commanding them in battle can players defeat their enemies and prove their true might.
Mighty Battles sets itself apart from other mobile titles with features including:
Squad Building. Recruit and collect 40+ different units to lead into battle including Rocket Troopers, Grenadiers, Flamethrower Troopers, and all sorts of different soldiers, vehicles, weapons and base defenses.
Enemy Attacks. Shoot enemy grunts with base turrets to collect deployments points, then spend those points to deploy soldiers and vehicles into battle. Play different combinations of units to make a winning push on the enemy's base!
Base Defense. Destroy enemy units with Gatling Guns, Rocket Launchers, Bombing Runs and Turrets! Deploy the right soldiers and vehicles into battle to help fight off attacks and turn defense into offense!
Worldwide Competitions. Challenge other players around the world in live 1v1 multiplayer battles! Earn medals for each victory, and climb through the divisions and leaderboards into the highest tiers of competition. Hone shooting skills and tactical expertise to become the best in the world.
Clan Events. Join a team of other commanders and work together to become the top clan worldwide. Donate units to one another, practice with clanmates in friendly clan battles, and compete against rival clans in weekly events.
Availability
Mighty Battles can be downloaded for free from:
App Store: https://itunes.apple.com/us/app/mighty-battles/id1102812738?mt=8
Google Play: https://play.google.com/store/apps/details?id=com.hotheadgames.google.free.bops
A game trailer can be found at https://youtu.be/YIAnOfoK0oA.
More artwork and creative assets can be downloaded at https://drive.google.com/drive/folders/0B0GC3ipzaUbOMUtxNnNXM25zbTA.
More details can be found at http://www.mightybattlesgame.com.
About Hothead Games
Hothead Games is one of Canada's largest independent game studios. Founded back in 2006, when our Hotheads barely had cold feet, our goal was nothing less than total world domination. We continue to strive for entertainment in all things, including our award-winning mobile game catalog, our company culture, and even this self-aggrandizing boilerplate that you're reading right now. For more information, visit http://www.hotheadgames.com.
©2017 Hothead Games Inc., Hothead, and Mighty Battles are trademarks or registered trademarks of Hothead Games Inc., all rights reserved. All third party trademarks mentioned are the property of their respective owners.
# # #
Media Contact:
Matt McAllister
Fluid PR
(510) 229-9707
matt@fluidspeak.com
Company Contact:
Oliver Birch
Hothead Games
media@hotheadgames.com