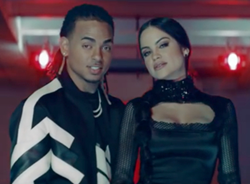 "We are incredibly happy for Natti Natasha, Ozuna and our client Pina Records for achieving the #1 music video."
Los Angeles, California (PRWEB) November 16, 2017
The hit Pina Records single "Criminal" by Natti Natasha and Ozuna is now the #1 music video in the world, according to the just-released YouTube Music Global Top 100 chart for the week ending 11/9. The video finished comfortably ahead of mega-hit "Despacito" by Luis Fonsi ft. Daddy Yankee and "Havana" by Camila Cabello ft. Young Thug, with nearly 70 million plays recorded for the week. "Criminal" is in heavy rotation on the multi-platform VidaPrimo network and has now surpassed 600 million lifetime views.
"We are incredibly happy for Natti Natasha, Ozuna and our client Pina Records for achieving the #1 music video," says VidaPrimo Executive Vice President and General Manager Stephen Brooks. "It is an honor to work with some of the best artists and label executives in the world. Pina Records has been a pioneer in the Latin Urban music genres of Reggaeton and Latin Trap for over a decade, and "Criminal" is a testament to the label's continuing status at the top of its game."
The achievement also acknowledges YouTube's role as barometer of global music trends. The video platform's Top 100 charts track weekly viewership and fastest growth of music videos in the United States, United Kingdom and Worldwide. "YouTube plays a vital part of the music ecosystem for us," says Brooks. "The Top 100 Charts provide a unique and important view into the music video marketplace."
About VidaPrimo: VidaPrimo is a global media company that provides advertisers access to Millennial consumers in the US and Latin America through culturally relevant Latin Music video content. Through agreements with more than 120 of the hottest Latin Rhythm artists, VidaPrimo is the largest independent Latin Music Multi-Platform Network with presence on YouTube and over 15 web, mobile, subscription streaming, smart television, connected streaming device and broadcast platforms. With over 1 billion monthly views across the US and Latin America, VidaPrimo reaches 25 percent of US based Hispanic Millennials and an average of 20 percent of Millennials in Latin American countries. The VidaPrimo platform connects its massive reach of engaged Latin Millennials to global brands through high quality in-stream video advertising in front of premium content, in-video product placement, custom production, social influence and fan activation.
###