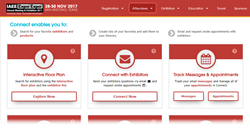 a2z is proud to be a partner in helping exhibitors and attendees make valuable connections.
Columbia, MD (PRWEB) November 16, 2017
a2z, Inc., the cloud-based event management and marketing software company, is pleased to announce that the International Association for Exhibitions and Events (IAEE) has again collaborated with a2z Inc. to offer a suite of solutions to exhibitors and attendees for IAEE Expo! Expo! 2017. IAEE's Annual Meeting and Exhibition will be held from November 28-30, 2017 in San Antonio, TX and will offer 50+ education sessions, extended show floors hours and more than 60 product categories creating a diverse marketplace for show organizers. Expo! Expo! 2017 is all about Connections and a2z is proud to be a partner in helping exhibitors and attendees make these connections. The a2z suite of solutions being utilized at Expo! Expo! 2017 includes our online networking tool Connect™, a powerful Hosted Buyer solution, a dynamic website featuring product galleries, online booths, and an interactive floor plan, as well as ChirpE Booth Promotion Widget for exhibitors.
Connect™ provides exhibitors access to attendees in advance of the show so that they may network and schedule in-booth meetings with attendees. The company and product information featured in an exhibitor's online booth offers attendees an opportunity to learn about exhibitors and their products prior to their onsite meetings. Similarly, attendees can begin their planning and networking in advance of the start of the show. Attendees can email exhibitors directly from the exhibitor list and request appointments with exhibitors. Connect™ makes it easy for attendees and exhibitors to track their meetings with an online calendar.
The Hosted Buyer Program powered by a2z's solution, combines the power of automated scheduling with intelligent matchmaking. Attendees are matched with exhibitors of interest and the system devises a meeting schedule for the attendee. This creates valuable meetings between qualified attendees and exhibitors.
Attendees may visit myexpoexpo.com to search the online product gallery, video gallery, exhibitor press release gallery, and show specials highlighted by exhibitors. Enhanced exhibitor online booths offer exhibitors an opportunity to promote their products and services to attendees in advance by using engaging images and videos in their online booth. The online Interactive Floor Plan makes finding exhibitors and featured products an easy task for attendees.
Exhibitors can use the ChirpE Booth Promotion Widget to engage their clients and prospects visiting their company website before the show starts. The widget allows exhibitors to promote their online booth on their websites so that potential and registered attendees may have easy access to their company information, the event website, and even register for the event. Exhibitors may access their complimentary widget code from their online exhibitor console.
To learn more about Expo! Expo! 2017, please visit http://www.myexpoexpo.com/.
About a2z
a2z, Inc. provides powerful cloud-based event management and marketing tools that grow your brand by accelerating booth sales, helping boost revenue, and enhancing engagement and value for event participants.
a2z's solutions are used by 1,200+ leading trade shows and conferences across the globe every year. More than 46% of the TSE Gold 100 and TSNN Top 250 Events leverage a2z's innovative web and mobile solutions.
About IAEE
Trusted since 1928, IAEE provides quality and value to its members through leadership, service, education and strong relationships. IAEE is the largest association of the exhibitions and events industry in the world, with a membership of more than 1,300 show organizers, exhibitors and exhibition supplier companies and over 11,000 individual members in 50 countries. Organizers of more than 20,000 exhibitions and buyer-seller events around the world are members of IAEE, and the organization advocates and promotes the awareness of face-to-face exhibitions and events as the primary medium for business development and growth.
http://www.iaee.com