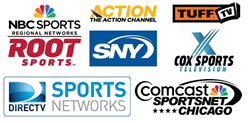 LAS VEGAS (PRWEB) November 16, 2017
Barry Meyer's "World Famous Tuff–N–Uff: Future Stars of MMA" will soon be featured in more than 160 million homes with a brand new series, "Best of Tuff-N-Uff."
"Tuff-N-Uff has always prided itself on offering a significant platform to aspiring mixed martial artists on their journey to superstardom in MMA," Tuff-N-Uff CEO Jeff Meyer said. "Now that platform is getting much larger."
Featuring the best moments from the Las Vegas-based promotion's vast library of contests spanning the 20-plus year history of the organization, "Best of Tuff-N-Uff" will be distributed nationwide through partnerships with NBC Regional Sports Networks, Cox Sports Television, DirecTV Sports and more. Check your local listings for air dates and times in your market.
"Our fans know that Tuff-N-Uff has long served as the nation's premier place for developing talent looking to prove themselves before stepping up to the next level," Meyer said. "Through this series, we'll be able to relive the journey of these incredible athletes from the beginning. We'll look back on the early moments of future stars of the sport, such as Ronda Rousey, Ryan Couture and more, and we'll also introduce you to some athletes you may not know just yet but have put on some amazing performances in the Tuff-N-Uff cage."
Based in Las Vegas, Tuff-N-Uff is blessed with a rich talent base in its home city, but the quality of both competition and production have made the organization a prized destination for prospects from across the nation. Prove yourself in the Tuff-N-Uff cage, and you know you're ready for the spotlight. Now the absolute best of those thrilling moments of truth will be delivered to passionate fans on a weekly basis.
"We're incredibly proud to launch this new series, which is going to bring Tuff-N-Uff's brand of high-level mixed martial arts action to new audiences across the nation," Tuff-N-Uff EVP and COO Bryan Lindsey said. "This opens up an amazing new level of exposure for all of our fighters, both past and present, as well as our incredible sponsors and partners in the Las Vegas community and across the nation.
"Our loyal fans understand our commitment to top quality competition and production, and we look forward to broadcasting Tuff-N-Uff on an even broader platform, introducing our brand of action-packed MMA to new markets that could soon host live events, as well."
Barry Meyer's World Famous "Tuff-N-Uff: The Future Stars of MMA" is coming soon to a television near you.
Press Contact:
Jeff Meyer
(858) 752-8700
jeff(at)tuffnuff(dot)com
About Tuff-N-Uff
A 24-year-old combat sports organization, the Las Vegas-based TUFF-N-UFF presents the best amateur mixed martial arts (MMA) action in the nation. It has given rise to some of the biggest stars in the sport today, including UFC bantamweight champion Ronda Rousey, as well UFC and Strikeforce veteran Ryan Couture, UFC welterweight Alan Jouban and UFC light heavyweight Khalil Rountree. TUFF-N- UFF celebrated its historic 20th anniversary on Saturday, June 7, 2014, with over 15,000 fans, in a sold-out live event inside the Thomas & Mack Center. TUFF-N- UFF is committed to growing the sport of MMA and building the "Future Stars of MMA." For more information, visit TuffNUff.com, follow on Twitter and Instagram @TuffNuff and LIKE us on Facebook at http://www.facebook.com/tuffnuff.