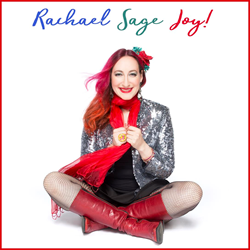 "(Sage channels) her inner Fanny Brice and Jewish Norah Jones..." -- New York Times
NEW YORK (PRWEB) November 16, 2017
Award-winning singer, songwriter and multi-instrumentalist Rachael Sage debuts her first holiday EP, "Joy!". Sage will perform several East Coast shows to celebrate the November 10th release, including events in New York and New Jersey. All proceeds from the December 13 show at NYC's Rockwood Music Hall will benefit MusiCares Hurricane Relief.
Rachael Sage never ceases to surprise. Whether it's via her innovative, often handmade stage-costumes or unlikely collaborations with artists such as Howard Jones and Judy Collins, the colorful artist is never afraid to give things her own spin. "Joy!", her first EP of holiday-centric material, is no exception. The collection includes two original Hanukkah songs, a Yiddish ballad, and a cover of the timeless classic "Joy To The World". Featuring imagery by renowned New York photographer Bill Bernstein ("Disco", Paul McCartney), the physical packaging also includes a recipe for Romanian latkes contributed by a friend's bubbe, a.k.a. grandmother. Full track listing below.
Sage is no stranger to performing holiday material. The lively, tongue-in-cheek "Tchatchkes & Latkes" was penned for her previous end of year shows at NYC's legendary Joe's Pub, along with fan favorite "Hanukkah In The Village" (which Sage has previously performed on the Fox 5 Morning Show). "Umru Meine", Sage's first-ever Yiddish recording, was debuted earlier this year at Skirball Center For The Performing Arts, where she sang it alongside Tovah Feldshuh, David Hyde Pierce and other Broadway performers as part of a National Yiddish Theatre gala event. 
To celebrate the new EP, Sage is hosting several release events on the East Coast. The holiday-themed event at Rockwood Music Hall on December 13 will donate 100% of all proceeds to the MusiCares Hurricane Relief organization. Additionally, on December 10th (National Human Rights Day) she will perform at the International Human Rights Art Festival, as part of an all-female evening of artists honoring Eleanor Roosevelt and the Universal Declaration Of Human Rights. Full tour routing and further information can be found here.
If you wish to attend a show, request exclusive photos for your publication, receive review links/copies of "Joy!", or have any further inquiries, please contact: press(at)mpressrecords(dot)com
1) "Joy To The World"
2) "Tchatchkes & Latkes"
3) "Umru Meine"
4) "Hanukkah In The Village"
5) "Joy To The World" (radio mix)
GET "JOY!" ON iTUNES
FOR MORE INFORMATION & PRESS INQUIRIES PLEASE CONTACT
Tiina Teal | 212-481-7243 | press(at)mpressrecords(dot)com