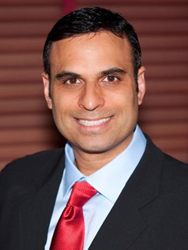 Elmhurst, IL (PRWEB) November 17, 2017
Patients with tooth loss interested in dental implants in Elmhurst, IL, can now turn to Dr. Amarik Singh, DDS, MS, a renowned Chicago periodontist at Periodontal Implant Associates. Dr. Singh is recognized for his dedication to providing a premier experience for his implant patients and always strives to offer the latest care, including computer-guided implant placement. By using modern software and Cone Beam CT imaging, Singh is proud to say he can increase the accuracy of each implant procedure and place it in an ideal location to see the desired outcomes for his patients.
Dental implants are now the gold standard in tooth replacement solutions. Titanium implant posts are surgically placed into the jaw to act as a natural tooth root, ensuring functionality and healthy bone growth. After successful placement, each implant is placed with a custom dental crown to complete a natural-looking smile. As a board-certified periodontist, Dr. Singh understands the importance of properly placing each implant post. Through years of specialized training and extensive experience placing implants at his practice, Dr. Singh offers the latest techniques and technology for permanent dental implant solutions.
Applying Cone Beam CT imaging technology, Dr. Singh captures precise images of every patient's oral structures, including roots, bone density and nerves in just 15 seconds. This allows him to accurately place implants in the jaw, increasing their likelihood of success and their overall longevity.
Using computer-guided treatment plans, Dr. Singh provides custom single implants as well as the full-arch All-on-4® dental implant technique for those with multiple missing teeth. This option provides patients with multiple missing teeth a functional alternative to dentures with the opportunity to transform their smile with only four or more implants and a custom prosthetic.
Dr. Singh is an experienced periodontist who has placed more than 15,000 implants in the Chicago area at his leading-edge practice, Periodontal Implant Associates. He encourages those interested in single or multiple dental implants in Elmhurst, IL to visit his website at http://www.pidentists.com to learn more or to contact his office at 630-686-1030 to schedule an appointment and begin their smile transformation.
About the Practice
Periodontal Implant Associates is a periodontal practice offering personalized dental care for patients in Oak Brook, IL and the Chicago area. After graduating from Northwestern University Dental School, Dr. Amarik Singh went on to obtain his Specialty Certificate in Periodontics and earn his Master's from Northwestern University. Dr. Singh is deeply committed to continuing education and prides himself on remaining on the cutting-edge of the newest techniques and technology in dentistry. Dr. Singh has placed over 15,000 dental implants using minimally invasive techniques and is part of an elite group of dental professionals at the forefront of the Chao Pinhole® Surgical Technique (PST™), a revolutionary new approach to repairing gum recession. To learn more about the periodontal services available at Periodontal Implant Associates, please visit http://www.pidentists.com or call 630-424-9404.