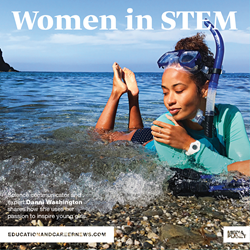 Mediaplanet today announces distribution of its second cross-platform edition of "Women in STEM."
NEW YORK (PRWEB) November 17, 2017
Mediaplanet today announces distribution of its second cross-platform edition of "Women in STEM," aiming to celebrate the growth of diversity in these fields while also looking at the many issues women in this industry still face.
The print component of "Women in STEM" is distributed to a very key audience at focused STEM events, conferences, networking centers and universities, as well as a large network of K-12 public schools and learning centers. The digital component is distributed nationally through Mediaplanet's Education and Career News content hub, social-influencer sharing and targeted STEM newsletters and news sites.
Science communicator and expert, Danni Washington, graces the cover of the campaign. In her interview, Washington opens up about her passion for oceanic studies and sharing her findings with others. Other female advocates also share their stories, including meteorologists Dylan Dreyer, Stephanie Abrams and Ginger Zee, who are working together to banish the term "weather girls."
This campaign was made possible with the support of DK Publishing, STEMconnector®, Canvas by Instructure, Chevron, Dylan Dreyer, Stephanie Abrams, Ginger Zee, Project Lead the Way, USA Science and Engineering Festival, NAF, Million Women Mentors, ACORD, Danni Washington, Texthelp, the School Superintendent Association, National PTA, National Geographic, School Outfitters, Latinas in STEM, Women in Technology Institute, Zume Pizza's Julia Collins, Milken Award Winner Aja Brown, National Girls Collaborative Project, American Academy of University Women, Women in Manufacturing and more!
About Mediaplanet 
Mediaplanet specializes in the creation of content marketing campaigns covering a variety of industries. We tell meaningful stories that educate our audience and position our clients as solution providers. Our unique ability to pair the right leaders with the right readers, through the right platforms, has made Mediaplanet a global content marketing powerhouse. Our award-winning stories have won the hearts of countless readers while serving as a valuable platform for brands and their missions. Just call us storytellers with a purpose. Please visit http://www.mediaplanet.com for more on who we are and what we do.
Press Contact
Jordan Hernandez
Jordan.hernandez@mediaplanet.com
(646) 755-7956