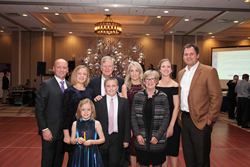 The power of Cancer Hope Network is family – it gives people a place of hope, a place of comfort.
New Jersey (PRWEB) November 16, 2017
"The power of Cancer Hope Network is family – it gives people a place of hope, a place of comfort. I know from personal experience, when you love somebody going through cancer, there's that moment when the initial despair goes away. They talk to a volunteer, and say I can do this. The vigor comes back in, and they realize that they too can conquer this cancer and have another day, another year, another five years with the people that love me and the ones I want to spend my time with. It's truly a powerful thing," Glenn said, accepting the award. "The Alba family is proud to be a part of the Cancer Hope family."
After a strolling dinner and silent auction, guests heard from three Support Volunteers who provide support from diagnosis, through treatment and into recovery – Patricia Malizia, Chuck House and Laura Schneider. As breast, throat and ovarian cancer survivors respectively, the three shared the ways they're leveraging their personal struggles to help patients.
"At first, it was hard to share my story without crying," Trisha recalled. "As time passed, I thought about how many people I could help by my story, and decided to do that instead of pushing it down inside myself."
"Talking to me does two things," Chuck agreed. "It helps them understand what to expect and it shows them there's someone who's made it to the other side."
Eleven years after she was diagnosed with an aggressive form of ovarian cancer, Laura knows that for some patients, just talking to her is hope. "The mere fact I am alive and well gives others hope….every conversation is an opportunity to let them know someone understands, and to assure them they aren't alone."
Cancer Hope Network provides free one-on-one emotional support to adult cancer patients and their caregivers. Each of our 400+ volunteers is at least one year post-treatment or successfully undergoing maintenance therapies. Our Support Volunteers represent more than 80 cancer types and speak 15 languages. They offer encouragement from diagnosis, through treatment and into survivorship.
Event photos and the electronic ad journal are available at cancerhopenetwork.org/gala
For more information about Cancer Hope Network, or to connect with a trained volunteer, contact Sarah Miretti Cassidy, Director of Marketing and Patient Outreach. scassidy(at)cancerhopenetwork(dot)org or 908.879.4039 ex 20.