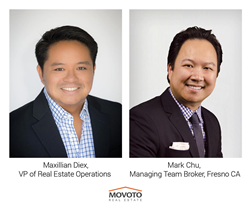 FRESNO, Calif. (PRWEB) November 16, 2017
Maximillian Diez, Movoto Real Estate's VP of Real Estate Operations, will discuss how technology will affect the real estate industry's future at the National Association of Hispanic Real Estate Professionals' 2017 Real Estate Tech Summit in Fresno, CA.
"Some argue that the industry is moving to a single-agent or there won't be agents involved, period," says Diez. "I feel that technology won't replace the agent, but will instead change the way an agent does business."
Diez, an industry veteran with over 18 years of experience, doesn't think new technology—perhaps no matter how advanced—can really take the place of the balance and care a flesh-and-blood real estate professional brings to the table.
"The technology is there, yes, but it doesn't supersede the need for that human aspect, that interaction between two individuals: the expertise one has for the industry and the emotional need for a client to get into a home," says Diez. "There still needs to be that aspect."
The influx of new real estate technology is not surprising. "Wall Street and the investor community have been pouring a great deal of money and resources in trying to shape our business," says Diez. However, that new tech isn't something that should be feared either. Rather, agents can learn to use those new tools to their advantage.
"Technology doesn't need to dehumanize the real estate process," he says.
Movoto would also like to congratulate its very own managing team broker, Mark Chu, who is the incoming president of NAHREP's Fresno chapter. Movoto is proud to be a NAHREP Fresno Gold Partner.
We look forward to seeing our fellow realtors and partners at the event. This year's NAHREP will feature a three hour tech event, followed by a networking opportunity. Tickets can be purchased from NAHREP Fresno's website.
Event date:
Thursday, November 16, 2017. Tech event: 1:00pm - 4:00pm; Networking and tacos: 4:00pm - 7:00 pm
Event location:
The Falls Event Center
4105 W Figarden Dr.
Fresno, CA 93722
About Movoto
Movoto Real Estate is the second largest online real estate brokerage in the US and the only one licensed in all 50 states. With over 100 million people searching for homes annually on Movoto.com and over 30,000 properties sold, Movoto is one of the most influential online real estate platforms in the United States.
Movoto is expanding to click-and-mortar locations in California to provide their customers: home buyers and sellers, agents and brokers with unmatched services and technology solutions. For more information see our news and press resources and real estate market trends. Sell your home with Movoto or search for available homes for sale.
CONTACT:
Public Relations
Cynthia Countouris
415-604-4788
press(at)movoto(dot)com
http://www.movoto.com/press/resources