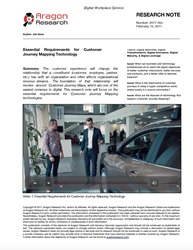 We launched Visual Research to give business users insights faster.
Palo Alto, California (PRWEB) November 16, 2017
Aragon Research Inc. announced its new Visual Research offering today. Visual Research takes traditional, text-based research documents and combines them with video to accelerate knowledge delivery. These videos go in-depth to explain key concepts, technology trends, and competitive insights that executives need to know—to enable faster learning, reinforcement, and stronger knowledge retention.
Recent research from MIT has indicated that people can process visual content faster than text—in as little as 13 milliseconds. Coupled with the fact that a majority of the population (65%) are visual learners, and suddenly visual content becomes a powerful way to quickly process and understand information.
Visual Research by Aragon Research is offered as both an integrated visual document as well as a standalone video inside the Aragon Insight Network (AIN).
Comments on the news:
"Aragon's shift to Visual Research is a first in the Research Industry," said Niki Hall, VP of Marketing at Five9. "By having access to a video in every Research Note, our Marketing, Product, and IT Teams will be able to understand key concepts quickly allowing us to compete faster and more effectively in the Digital Business era."
"It's challenging for business users—especially executives—to carve out time to read research documents. We launched Visual Research to give business users insights faster," said Jim Lundy, founder and CEO of Aragon Research, "and when you learn faster, you can make decisions faster, giving you a competitive advantage."
"Aragon Research helped us understand key developments in our markets which was pivotal for Nintex to attain leadership in the Workflow and Content Automation category. We know that to continue our leadership, we need to quickly absorb market insights and developments and innovate rapidly," said John Burton, CEO of Nintex. "The new Visual Research from Aragon with its embedded video is highly innovative in itself and very effective in enabling us to quickly understand industry trends, and emerging technologies. We can react faster, with deeper knowledge and as a result, maintain our competitive edge."
Aragon cites increased learner engagement and satisfaction, faster comprehension, an increased ability to recall information, and the ability to innovate faster as benefits to using Visual Research versus traditional, static documents.
Aragon clients will receive immediate access to Visual Research in the Aragon Insight Network. Learn more about Aragon's new Visual Research offering by visiting aragonresearch.com/visual-research.
About Aragon Research
Aragon Research is the newest technology research and advisory firm. Aragon delivers high impact interactive research, consulting, and advisory services to provide enterprises the insight they need to make better technology and strategy decisions. Aragon Research serves business and IT leaders and has a proven team of veteran analysts. For more information, visit https://www.aragonresearch.com.