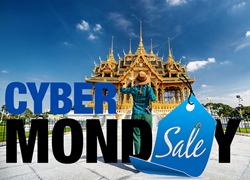 Selected from a list of our most popular tours, our Cyber Monday packages are some of our best tours with the best prices possible
LOS ANGELES (PRWEB) November 16, 2017
Charming Travel Destinations, a travel company operating since 1987, announced its biggest annual sales event for Cyber Monday. On November 27, travelers can save more than $400 on selected tours that run throughout 2018.
Currently running value packages, club rewards and early booking promotions, Charming Travel Destinations is offering even better deals in time for the national annual shopping event. Travelers can save on top destinations like Thailand, Japan, Peru, Taiwan and South Korea. Director Mariam Jimenez explains that the company's selection will be the best yet.
"In addition to the current promotions, we wanted to top those deals for travelers in time for the holidays. Selected from a list of our most popular tours, our Cyber Monday packages are some of our best tours with the best prices possible," says Jimenez.
The tour packages not only offer immersive tours but also four to five star hotels, meals, guides and transfers. Tours include a variety of experiences such as food tours, cooking classes, traditional activities and swimming in the beaches of Thailand.
Furthermore, unlike most group tours, Charming Travel Destinations' tours offer free leisure time so that customers can enjoy flexibility and personal experiences.
For more savings, the company also runs Charming Club, its loyalty rewards program that helps members earn more than 3 percent credit in a variety of ways.
To learn more about Cyber Monday deals, check out https://charmingtraveldestinations.com/cyber-monday-sale/
About Charming Travel Destinations
Charming Travel Destinations is a major tour operator in North America arranging exclusive group, independent, student and corporate travels. With over 30 years of knowledge and experience, Charming Travel Destinations promises the best quality performance, service and products in the travel industry. For more information, please visit https://charmingtraveldestinations.com/