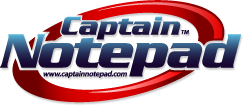 With the many options Captain Notepad offers, you can find the perfect custom calendar for your needs
Englewood, CO (PRWEB) November 16, 2017
Captain Notepad (http://www.captainnotepad.com), a producer of image personalized calendars, professional notepads, magnetic notepads, and other promotional items, today announced its latest promotion in 2018 custom calendars for small businesses and realtors.
"Our customized calendars are the perfect gift for the upcoming holiday season. As your small business grows, so does the need to keep your brand in front of your customers all year round. With the many options Captain Notepad offers, you can find the perfect custom calendar for your needs," says Jace Rogat, President at Captain Notepad. Captain Notepad offers 10% off all calendars till November 30th. Simply use promo code Calendar2018 at checkout. Calendars included in the promotion include Image Personalized Calendars (calendars that are uniquely designed to include each client's name in the design), Business Card Magnet calendars (low cost and easy to design calendars that are perfect for the refrigerator), and our popular magnetic year calendar (these calendars can be shipped using only 1 first class stamp).
Small businesses can also take advantage of Captain Notepads extensive selection of custom notepad sizes. These professional notepads can be customized using special die cut techniques, imprinting logo and contact information, and creating a unique design. Captain Notepad is one of the few companies that can produce quality custom notepads in all sizes.
Captain Notepad is also excited to announce the growth of its popular die cut notepads. Through its offering of free design and artwork services, Captain Notepad helps customers create a unique notepad. The company will provide the customer with a mock design based on the customer's requests, then the client together with the design team will make final edits to the shape, size, style, and text. And finally the professional notepad will be ready to print and mailed within a short period of time. Click here to see what other small businesses have done with their professional notepads.
For more information on Captain Notepad's professional notepad and calendars, contact them at 888-268-7237. "Our affordable customized notepads and calendars are the perfect giveaway this holiday season. Take advantage of all of our great savings and options to make a lasting impression on your clients," says Jace Rogat, President at Captain Notepad.
About Captain Notepad (https://www.captainnotepad.com)
Captain Notepad is the leading manufacturer of customized notepads and promotional items specializing in creative solutions to help brand a company's product and grow their business. Through competitive prices and great customer service, Captain Notepad has become the best source for custom notepads. What sets Captain Notepad apart is the short production time including rush production on most of the custom printed notepads.