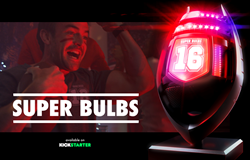 Everyone who's ever been in a packed stadium knows that unique energy that comes with singing along with 99,999 of your closest friends, the special chants and the excitement of a touchdown... that's the magic we have made a reality with Super Bulbs
Melbourne, AU (PRWEB) November 21, 2017
Fan-tech company Creator Global (Creator) is developing what it terms the 'evolution of sport-tech,' with the launch of Super Bulbs, the first in its range of dedicated IoT devices for sports fans.
Super Bulbs is a wi-fi connected speaker light that reacts in real time through sports data feeds and pumps lights, songs, sounds and celebrations of a live college football game to the fans' home.
The Creator team has previously developed sports experience devices for corporate clients through their IoT expertise, and are now also bringing products straight to the fans, starting with Super Bulbs.
"We often hear about the 'stadium experience at home' but we felt there was nothing that truly delivered the 'fun stuff' of what's happening in the stadium - until now," says Creator Global CEO Travis Crothers: "Broadcasts today are incredible, and watching sport on a UHDTV is certainly impressive, but the experience is still curated around the game and a lot of commentary.
Everyone who's ever been in a packed stadium knows the unique energy that comes with singing along with 99,999 of your closest fan friends, the special chants and the manic dancing," Crothers says: "You just don't get that from your TV screen or via an App. So that's the magic we have made a reality with Super Bulbs. Imagine when 'that song' comes on in the stadium and you are able to join in the singalong with all fans from across the country, right there from your living room."
Super Bulbs is easy to set up with a smartphone App: The user simply selects their team and customizes how they want the device to react on gameday. There is even a function to record personal songs, chants or screams. The device is powered by Sports Socket, a proprietary platform that binds together multiple feeds and APIs and builds a unique feed with quick link technology, then pumps it out to the device.
"A lot of sports fans haven't yet entered the smart home market for various reasons," says Crothers. "We have sorted all the technical stuff to deliver a seamless fan experience, based purely on your love for your team. It's a ton more exciting than working on IoT projects such as solving the out of milk problem!" Crothers says with a wry smile.
"The fan-tech category is at an exciting intersection between technology, digital innovation, marketing, licensing and loyalty," he says. "What we do know is that IoT will play an increasingly vital role in how fans engage with their teams and vise versa. Our biggest challenge is not developing these products, but navigating which department should own the execution at team and brand level."
While Super Bulbs is initially aimed at the college football market, Creator has plans for other sports. "Next cab off the rank is something aimed at engaging younger fans," says Crothers: "And that's all we can say right now!"
To find out more about Super Bulbs or back the project visit the Kickstarter page.
Access product detail and press kit here.
About Creator:
Creator is a fan-tech consumer product company developing a range of tech-enabled devices for brands and passionate sports fans, connecting through smart devices at the right time, all the time.
Creator is led by hardware and UX design veterans Travis Crothers, Doug Buckle and Slade Sherman and offers design and development services and accelerated execution to global brands, sponsors and teams for connected product experiences and the Internet of Things (IoT).