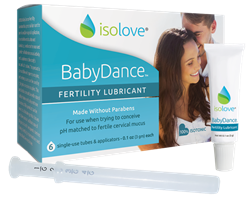 "Most people don't realize that ordinary lubricants damage sperm and reduce chances of conceiving naturally," said Dr. Peter Rizk, fertility expert and OBGYN.
BELLINGHAM, Wash. (PRWEB) November 16, 2017
Exciting news for trying-to-conceive (TTC) couples!
The U.S. Food and Drug Administration (FDA) granted premarket approval to Fairhaven Health/Isolove for its BabyDance™ Fertilty Lubricant. BabyDance™ is cleared by the FDA in the unique category for personal lubricants that are "gamete, fertilization and embryo compatible" for use by couples who are TTC and by health care providers during fertility interventions.
This is great news for trying to conceive couples, as BabyDance™ is the first isotonic, made-without-paraben fertility lubricant to be cleared by the FDA. pH-matched to fertile cervical mucus, it doesn't interfere with sperm function. Studies show that BabyDance™ Fertility Lubricant doesn't interfere with:

Sperm Motility
Sperm DNA Quality
Sperm Penetration into Cervical Mucus
Sperm Ability to Fertilize and Support Embryo Development
Additionally, laboratory studies show that human sperm are readily able to swim into and through BabyDance™ Fertility Lubricant, facilitating the movement of high numbers of sperm to the egg. Many lubricants on the market will immobilize sperm, which can negatively impact chances of conceiving.
"Most people don't realize that ordinary lubricants damage sperm and reduce chances of conceiving naturally," said Dr. Peter Rizk, fertility expert and OBGYN. "I've reviewed research and clinical data for many fertility products and believe BabyDance™ to be the clear market leader for fertility lubricants and a great help for couples who are trying to conceive naturally. The isotonic formula is pH-matched to fertile cervical fluids, so it won't irritate sensitive vaginal tissues and – very importantly – won't harm sperm function. This is a product we will be recommending to all our trying-to-conceive patients."
BabyDance™ Fertility Lubricant is intended to moisturize, lubricate, and enhance the ease and comfort of intimate sexual activity. Supplementing the body's own natural lubrication, BabyDance™ helps carry the sperm to the egg by mimicking the quality and consistency of the cervical fluids you produce when you are fertile.

Water-based, non-Irritating formula made without parabens, oils or hormones, and including clary sage extract to support optimal vaginal health.
Unique MyDose™ applicator allows you to choose the desired amount of product to moisturize and supplement natural lubrication.
Can also be used in medical facilities to lubricate diagnostic and therapeutic devices during IVF and other fertility interventions.
Manufactured in the US, each lot of BabyDance™ is tested to ensure that it won't harm sperm or eggs.
Each box comes with 6 MyDose™ Single Use Tubes and Applicators, a unique application system that allows couples to hygienically apply lubricant directly to the right spot.
Read more about the benefits of BabyDance™ Fertility Lubricant at MyIsoLove.com For more information, please contact Corinne Petras at corinne(at)BrilliantPRM(dot)com.
About Fairhaven Health
Fairhaven Health is a specialty supplier of natural, doctor-designed products to support fertility enhancement, pregnancy and breastfeeding. We offer a broad range of products to help couples conceive, providing natural alternatives to more expensive and invasive infertility treatments. Our clinically validated fertility supplements and ovulation prediction tools are recommended by OBGYNs and fertility specialists and have helped tens of thousands of couples conceive naturally. Once pregnancy is achieved, we offer natural, doctor-designed prenatal supplements and our award-winning Milkies nursing products to help new moms meet their breastfeeding goals. And we are very excited about our newest brand, Isolove, which offers made-without-parabens and isotonic biogels designed for alleviating vaginal odor, perineal massage, postpartum recovery, and TTC lubricant.