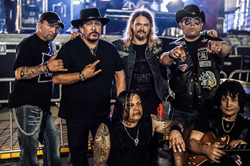 Indie Stock Music Festival had an amazing lineup. People really seemed to enjoy all of the performances," said Anthony Appello, lead vocalist of southern rock band Six Gun Sal. "It was great to see a lot of indie bands have the opportunity to play on the big stage."
LOS ANGELES, CA (PRWEB) November 16, 2017
This year's Indie Stock Music Festival brought some of the most talented bands in the indie rock music community to the Pico Rivera Sports Arena in Southern California on Oct. 28, for music fans to rock the night away. Fourteen bands were part of the lineup, including Lynch Mob with legendary guitarist George Lynch, P.O.D., Trapt and Six Gun Sal.
Attendees enjoyed the one-day festival, which included both independent and renowned bands as well as bands from multiple genres, including Rock, Hard Rock, Nu Metal, Southern Rock, Rock Funk, Heavy Metal, Christian Nu Metal and Alternative Rock Music.
The festival's lineup along with Lynch Mob, Trapt, P.O.D., and Six Gun Sal, included Hipnostic, Dirty Machine, Never Your Zero, Misamore, Lethal Injektion, Osairis, Gravity Layne, Angeles, The 95th, and Fifi Larue. Actor, singer and TV personality Leif Garrett was the MC of the event.
"Indie Stock Music Festival had an amazing lineup. People really seemed to enjoy all of the performances," said Anthony Appello, lead vocalist of southern rock band Six Gun Sal. "It was great to see a lot of indie bands have the opportunity to play on the big stage."
Indie Stock Music Festival was an opportunity to help independent bands play on state of the art stage with renowned musicians. It gave them a way to break open to a larger mix of concert goers giving them the exposure they are looking for. Music fans were very supportive as those who were in attendance were those who enjoy live music festivals and support indie music. Hipnostic Heavy Rock Band posted on Instagram "Love it…you guys Rock! Can't thank you enough for putting on an outstanding event…blessed to be part of it…rock Heavy!"
This year was the first Indie Stock Music Festival and organizers were encouraged and embraced by the amazing talent of indie bands who believe the event will only grow in the future. The event was widely welcome by all that attended and plans already in the works for a similar event in 2018.
ABOUT INDIE STOCK
The Indie Stock Music Festival is a unique festival that showcases indie bands and artists right alongside large well-known acts. We believe in supporting indie artists and allowing them to get the exposure they need by playing at our events. Indie Stock Music Festival is about great music and a great time for all.
Follow Indie Stock Music Festival Social Media Twitter, Instagram and their website http://www.indiestockfest.com
For Media Inquiries and Interviews please contact YM & Associates PR | Marketing | Branding at YMoralesY(at)YM-PR(dot)com or call 949-244-9769.
Yvette Morales
YM & Associates
PR | Marketing | Branding
California | New York
Phone: 949.244.9769
Email: YMoralesY(at)YM-PR(dot)com