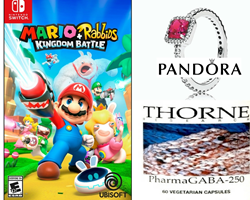 Black Friday/Cyber Monday holiday shopping should be fun, not stressful.
NEW YORK (PRWEB) November 20, 2017
Millions of Americans eagerly await Black Friday and Cyber Monday because they want the best holiday deals and biggest selection available.
Lifestyle expert Jeni Bond, from FunTrendsUSA.com, offers shoppers some super shopping tips, plus tips on how to handle holiday-related stress.
According to Jeni:

"Pandora Jewelry is offering a "Buy Two, Get One Free" deal on all items in their stores, from Nov. 22 though Nov. 27. You can get anything from necklaces and charms, to beautiful rings bursting with color from the new "Winter" collection. They're perfect for creating a holiday ring stack or mixing and matching with your current style. Go to Pandora.net or visit your nearest Pandora store to start shopping now and share your new looks using the hashtag #DOSeeTheWonderful."
"Mario + Rabbids Kingdom Battle is a turn-based combat adventure game, which is a mix between combat, exploration and puzzle solving. Mario and his famous friends, including Peach, Luigi and Yoshi, team up with the Rabbid heroes to save Mushroom Kingdom. It's an exclusive Nintendo Switch title and the perfect gift for anyone 10 years old or older in the family. It's a great game to play anywhere, anytime on the Switch. The game is available at retailers nationally. Visit MarioRabbids on Facebook for more details."
"Holiday shopping can be extremely stressful and lead to irritability, restlessness and sleeplessness. Thorne Research makes Pharmagaba-250, a natural source of GABA, which promotes a relaxed, focused state of mind. Thorne Stress B Complex maximizes adrenal support and stress management. And, Thorne Multi-Vitamin Elite AM and PM helps maintain the body's normal inflammation levels to help you relax and sleep better. Thorne is the only nutritional supplement company to conduct clinical trials on its products with the Mayo Clinic. Visit thorne.com to order."
For more information, contact: Jeni Bond on Twitter @JeniBondSays or Barry D. Miller, Miller/Weiner Communications at 551-697-3007 or barry(at)miller-weiner.com.