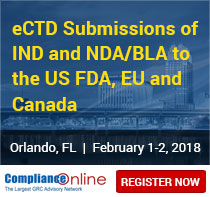 ComplianceOnline – The Largest GRC Advisory Network
Palo Alto, CA, USA (PRWEB) November 17, 2017
Led by ex-FDA official Peggy Berry, ComplianceOnline's popular seminar on "eCTD Submissions of IND and NDA/BLA to the US FDA, EU and Canada" comes to Orlando, and San Francisco in 2018. The 2017 sold-out event was attended by various clinical, biotechnology and pharma professionals representing FDA regulated organizations such as Nektar, AbbVie, Kashiv Pharma, Avanir Pharmaceuticals, Kodiak, Worldwide Clinical Trials, Tolero Pharmaceutical Inc., TRIO - Translational Research In Oncology, Pharmacyclics LLC, Hill Dermaceuticals Inc., and others.
Given the constant updates in the industry, each session in the seminar will provide you with an in-depth review of the content and format requirements of the CTD/eCTD. Hands-on activities will include organizing specific study reports and other documents into the CTD, using tools for the project management of the CTD preparation, and pre-publishing an eCTD.
Speaker Peggy J. Berry has worked in review divisions at the FDA (1985-1992). She is the editor of the 2010 book "Choosing the Right Regulatory Career" (RAPS, MD) and author of the 2011 book "Communication & Negotiation" (RAPS, MD).
This in-person training will assist anyone responsible for providing content for the CTD, regulatory affairs personnel, QA/ QC teams, pharmacovigilance, project management, medical and technical writers, and professionals preparing IND, DMFs, NDAs and other submissions.
For more information on this seminar, visit the event website here.
Dates:
Thursday, February 1, 2018 (8.30 AM- 4.30 PM) and Friday, February 2, 2018 (8.30 AM- 4.30 PM)
Thursday, May 31, 2018 (8.30 AM- 4.30 PM) and Friday, June 1, 2017 (8.30 AM- 4.30 PM)
Location 1: Orlando, FL
Location 2: San Francisco CA
Registration Cost: $1,899.00 per registration
Early bird discounts: For discounts on early registrations, please click here.
Register by phone: Please call our customer service specialists at +1-888-717-2436 or email to customercare(at)complianceonline(dot)com
For more information on ComplianceOnline or to browse through our trainings, please visit our website.
About ComplianceOnline
ComplianceOnline is a leading provider of regulatory compliance trainings for companies and professionals in regulated industries. ComplianceOnline has successfully trained over 55,000 professionals from 15,000 companies to comply with the requirements of regulatory agencies. ComplianceOnline is headquartered in Palo Alto, California and can be reached at http://www.complianceonline.com. ComplianceOnline is a MetricStream portal. MetricStream (http://www.metricstream.com) is a market leader in Enterprise-wide Governance, Risk, Compliance (GRC) and Quality Management Solutions for global corporations.
For more information please contact:
A Reuben Bernard
Associate Director - ComplianceOnline
2600 E Bayshore Rd
Palo Alto CA USA 94303
Phone - +1-650-238-9656 | +1-888-717-2436
Fax - 650-963-2556
Mail: reuben(at)complianceonline.com
Website: http://www.complianceonline.com