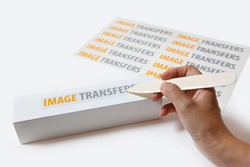 Our custom transfers are lacquer ink with lacquer adhesive. We produce them on a clear slick so placing your art in position and application is quite easy. We consider our transfers a beautiful, high quality product that will enhance any project you are working on.
NEW YORK (PRWEB) November 28, 2017
Since the demise of Letraset, Image Transfers (https://imagetransfers.com) has become a leading maker of dry transfer lettering. At Image Transfers, we only make one kind of decal: dry transfers. Unlike Letraset, dry transfers do not need to be rubbed down letter by letter nor is the letter spacing and alignment done by hand anymore. Moreover, today's dry transfer decals have an unlimited range of colors, including white, foils and metallics.
Designers now have the freedom to use any font or true-type style available and customers can format their lettering designs anyway they like. By uploading their vector artwork to us, the customer designs their own sheet of dry transfer decals, and we make it in the colors they specify.
Since the 1960's, many alternative names for "Letraset Instant Lettering" decals have been used in the industry, such as INTs, dry decals, Chromatecs, and also foil transfers (foil decals) when done with hot stamping foil. Further variations in the name of our product are: rub down transfers (rub downs), rub on transfers (rub-ons), and even sometimes they are called rub-off transfers (rub-offs).
At present, there is no generic name like Letraset that describes the specialized process of making these unique kinds of dry decals, so we've just been calling them "dry transfers" in the hopes that the name sticks (as well as they do). We'd like to take this opportunity to clarify our product in relation to the Process and History of Letraset Instant Lettering.
The History of Letraset's Instant Lettering
Letraset Instant Lettering has developed significantly since it was invented in 1959 by founder Fred Mackenzie. At the time, Letraset was a small company doing waterslide decals, which was a technology that dates as far back as the 1860s. Fred left Letraset early to form his own company "Instant Lettering" after a new process dealing with the original patent was developed, rub-on instant letters and numbers.
Some Graphic Designers Still Remember the Days of Letraset
Back in the old days, you would buy sheets of type called Letraset from a hobby or art supply store with a preset font and text size. Before applying, one had to use guidelines to keep the letters in a straight line, and the spacing between letters (kerning) was always difficult to get right.
In the 1960s and '70s, Letraset became hard to find. Only graphic design insiders could get all the Letraset they needed. It was sold by the sheet, usually as black letters only, in a limited number of font styles and sizes. Certain words used up all the letters on the sheet, which made it wasteful and expensive.
For a brief time, Letraset was the newest and best way to transfer lettering onto charts, signs and boardroom presentations, and the monopoly lasted until the invention of the inkjet printer. There's even a book written about the company's monumental rise, titled Letraset, A Lesson in Growth by John A. Chudley (Business Books: London) 1974.
Instead of being limited to one font style and size, by the early '80s graphic designers had turned away from using Letraset's moveable type decals to adhesive custom stickers. But nowadays, graphic designers have returned to appreciate the quality of the dry transfer process and are now using custom dry transfers more often. Dry transfers can be created using whole phrases and paragraphs in any font– eliminating the need to line up individual letters. They are also micro-thin and look great. Whole paragraphs can be formatted as vector art using Adobe Illustrator or similar program.
The Dry Transfer Process
With today's resolution and color matching, the dry transfers we make look much better than Letraset ever could. Our custom transfers are made to order–customers can simply upload their vector files directly to us via our secure website. Moreover, we can deliver them to you in as little as 24 hours.
A dry transfer (or rub-down) is an image printed on a translucent sheet. The image has a coating of adhesive on the image area only. The image or artwork is transferred from the translucent sheet onto another surface by applying light pressure in a rubbing motion. The dry transfer can be applied to any surface that is free of dust, grease or oil. Dry transfers are referred to as DRY because they are applied dry, without the use of water or solvents. A dry transfer is not a slip-off label or a water decal. After it's applied, the transferred image appears as if it was printed directly onto the item.
"Our custom transfers are lacquer ink with lacquer adhesive. We produce them on a clear slick so placing your art in position and application is quite easy" says Luann LaRussa of Image Transfers Inc. "We consider our transfers a beautiful, high quality product that will enhance any project you are working on."
The beauty of our dry transfers lies in its opaqueness. The colors are backed with white, so the transfers have the ability to be applied onto any colored surface without altering the original color of the rub-on transfer. The transfers are a "semi-permanent application." Image Transfer's production artists have the skills to match swatches including the Pantone Matching System (PMS) colors. Our standard transfers have semi-gloss finishes.
Dry transfers can take your project to the next level. Applying transfers on a prototype will give it a realistic look, ready for those photo shoots, so our clients can have all their marketing material ready when the actual product hits the shelves. Rub down transfers can be the solution to your next project.