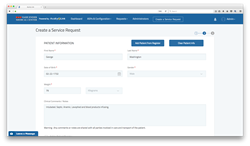 "Acuity Link is extremely user friendly for both health care staff and transport providers, but is packed with a robust array of features designed to increase operational efficiency in a number of hospital systems and health care settings," said Alex Theoharidis, CEO of Acuity Link. "
YARMOUTH PORT, Mass. (PRWEB) November 17, 2017
Over a dozen health care facilities in the Northeast U.S. are improving patient experience, reducing human error and freeing up clinical resources by integrating a discharge workflow optimization tool that automates non-emergency transport booking through Acuity Link's cloud based software.
Early adapters of Acuity Link's software solutions report seeing improvements in patient experience and a reduction in the time to book a transport request by nearly 75 percent.
"Acuity Link has provided our facility with a dashboard that enables our facility to manage all levels care for our patient's medical transportation in real time. The automation that Acuity Link provides is seamless and has freed up our staff to spend more time focusing on patient care," said Misty Gassman, charge nurse at Berkshire Healthcare.
Acuity Link offers a low-cost and comprehensive discharge workflow tool, which can be easily implemented into any setting with any hospital system or existing provider.
Once Acuity Link is adopted by a health care institution, administrators and clinicians can request, schedule and track patient non-emergency medical transportation directly from a web-browser in real time. Ambulance crews are connected to the health care institution's Acuity Link system via smartphone or tablet. From the Acuity Link mobile application, crews can respond quickly to incoming transport requests and receive clinical details and all pertinent information pertaining to the assigned transport.
Additionally, with Acuity Link's proprietary location technology, those performing the discharge of a patient are alerted when the transport is responding and arriving.
"Acuity Link is convenient, accurate and self-sufficient. You can book calls easily at any time during the day and you are able to see when the ambulance will arrive, which is really helpful," said Daneen Kutnyak, medical records unit secretary at Cape Regency Rehabilitation and Health Care Center.
The company's software is unique because it is the only full suite non-emergency medical transport request platform able to handle logistics for multiple levels of service, from critical care down to ambulatory transports.
"Acuity Link is extremely user friendly for both health care staff and transport providers, but is packed with a robust array of features designed to increase operational efficiency in a number of hospital systems and health care settings," said Alex Theoharidis, CEO of Acuity Link. "At its core, our software provides an automated three-way chat between the hospital, dispatch and transport crews, which eliminates outdated transport ordering processes and reduces human error. The software also comes equipped with a detailed analytics dashboard."
Acuity Link's analytics dashboard gives health care administrators and medical transport providers the ability to view visualized data trends, which were anecdotal prior to Acuity Link. The ability to access these data points can help administrators identify trends and make informed decisions around cost saving policies and procedures.
"Providing actionable analytics that are presented in a clear and easy-to-understand format was a high-priority for our team," said Theoharidis. "It is often challenging for hospitals to maintain profitability due to delays in the discharge process. With Acuity Link we are able to pinpoint those bottlenecks and provide the data to make informed decisions around discharge workflow and patient throughput. We focused on providing a software that streamlines the bottleneck of a typical two hour discharge window, and provides tools to automate and track improvements in the process."
For more information about Acuity Link and the company's software solutions, visit http://web.acuity-link.com/.
About Acuity Link
Founded in 2015 by a seasoned team of emergency medical service professionals, Acuity Link is a technology company that assists hospitals and medical transport providers through automation of non-emergency transport bookings. The software created by Acuity Link is a comprehensive discharge workflow tool allowing health care institutions to better manage discharges by innovating the process of booking non-emergency transportation. The company is headquartered in Yarmouth Port, Massachusetts and serves over a dozen health care providers and non-emergency transportation companies in the U.S.
Acuity Link is fully compliant with HIPPA laws and provides various levels of encryption, which meet or exceed industry requirements for protecting patient information.
For media related inquiries, please contact our PR firm by emailing news(at)judgepr.com or calling 813.279.8335.