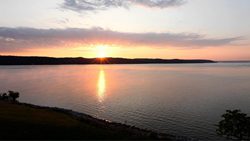 Now that is a reason to celebrate!
KNOXVILLE, Tenn. (PRWEB) November 19, 2017
In November, 2016, the TRV Stewardship Council, with the support of the Tennessee Valley Authority, began an expansion of the mapguide from its original eastern boundaries to include the full Tennessee Valley. This decision brought the number of eligible states from four to seven, creating a multi-state, multi-partner organization of both rural and metro communities.
Over the past 12 months, the TRV Stewardship Council has been hosting meetings and training sessions across the seven state area. The first west region state to complete the training was Alabama and the counties of the North Alabama Tourism Association, followed by counties in Mississippi, Middle West Tennessee, and Kentucky. "The mountain lake counties in North Alabama were leaders in not only understanding the benefits for small business and rural counties, but have been leaders in assisting other states," said Julie Graham, Site Administrator. "They have been instrumental in giving small businesses a nationally recognized brand and Explore Tennessee River Valley social pages."
The benefit to participating communities and businesses is the potential economic impact of the project. The US Travel Association cites economic data for Public Land as supporting 378,000 jobs and generating 12B in revenue in 2016. The Tennessee Valley Authority partnered with the University of Tennessee to study the economic impact of aquatic recreation on the Tennessee River Valley lakes. The final report published in March 2017, estimated the economic value at $ 1.1M per 1 mile on TVA managed shoreline. The report also concluded that rural communities had the most potential to benefit from recreation revenue.
The Tennessee River Valley is already recognized as a premier destination for fishing, boating, natural beauty, golfing, and the acres of public lands. What is not recognized is the wealth of history and cultural assets that define the region. The ongoing work of the TRV Stewardship Council is to connect the stories of these communities to the river's ever changing landscape with an end goal of creating sustainable socio-economic impacts.
This abundance of recreational streams, lakes, rivers, and public lands coupled with the rich cultural assets, are located within a day's drive of major urban centers such as Atlanta, Chicago, Indianapolis, Columbus, Charlotte, Philadelphia, Washington, DC, and Jacksonville, FL. The Tennessee River Valley Geotourism Mapguide is providing opportunities to locals to share their stories, conserve the beauty of the region, and to inspire visitors to explore authentic experiences, while improving the lives of the people who live there. Now that is reason to celebrate!