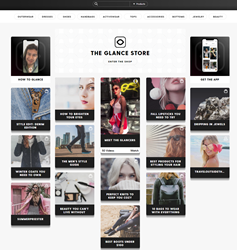 New York, New York (PRWEB) November 20, 2017
Let's be honest, shopping online isn't always the easiest. Between the heavily edited photos, lack of 360 degree views, and models not representative of real people, the consumer is often mislead into buying items that do not look the same in real life.
But it doesn't have to be this way. That's why we built Glance (http://www.myglanceapp.com).
Glance is the first social shopping app curated by real people for real people. Users can share products they love through 1-minute shoppable videos and discover products they normally wouldn't have time to find.
Basically, users create a raw #nofilter video of their look through the Glance cam and add direct links for others to shop all in one place.
Think of it as a video-based, shoppable Pinterest.
Easy to make. Easy to shop. Easy to search. *mind blown*
Glance is available on the web and as an app on iTunes.
For more information, please contact Amy at amy@glance-fashion.com.
About the founders
Gaby Friedlander and Avi Amos are serial entrepreneurs who together founded ObserveIT, a leading enterprise security solution that identifies and mitigates insider threats. Prior, Friedlander had successful businesses in Mobile Gaming and Amos in Cosmetics.