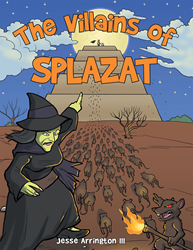 SAN ANTONIO (PRWEB) November 27, 2017
It took Jesse Arrington III a little over a year to write his new book, "The Villains of Splazat," because each sentence had to rhyme and end with 'at.'
In his debut book, Arrington tells the story of Matt Murat, and his best friends, a cat named Tit-For-Tat, and a bat named Pat, and their mission to save the poor bats and gnats living in Splazat, which is ruled by an evil sorceress named Whinchat, a rat named Nat, and his army of fratty rats.
In addition to featuring rhyming tongue twisters, the book also includes a glossary at the end, where children, parents, and educators can look up the meanings of the words included in the book, as many get increasingly challenging in vocabulary.
"I wrote the book with both education and entertainment in mind, as both components can aide in children's learning and the growth of imagination," Arrington said. "I believe that both of these components are so important in adults and children, as the book was written in memory of those beautiful souls who lost their lives at Sandy Hook Elementary School and who, like parents and children everywhere, possess boundless spirit of imagination, stargazing, discovery, and make-believe."
In "The Villains of Splazat," children and parents alike will revel in Arrington's educational and entertaining read and be left wondering at the end, will Matt, Tit-for-Tat, and Pat save the bats and gnats of Splazat?
"The Villains of Splazat"
By: Jesse Arrington III
ISBN: 978-1-4808-4280-9 (sc); 978-1-4808-4279-3 (hc); 978-1-4808-4281-6 (e)
Available at the Archway Publishing (from Simon and Schuster) Online Bookstore and Amazon
About the Author
Jesse Arrington III had a series of unique careers before authoring children's literature where he was a former superintendent and park ranger with the National Park Service, a member of the United States Armed Forces who served during the Vietnam War, and a preschool teacher. Arrington has two upcoming books titled, "The Little Witch Who Couldn't Fly Her Broom" and "The Little Door In the Big Door of the Back Door Next Door." He has three sons and currently lives in San Antonio. For more information about the author and his book, please visit: http://www.thevillainsofsplazat.com/