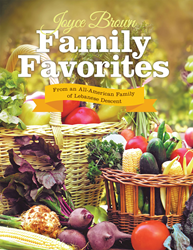 SEATTLE (PRWEB) November 27, 2017
Joyce Brown's mother was a really great cook, but her recipes often had her and her siblings asking their mom for the specific instructions instead of "a pinch of this" and "a tad of that."
In order to rectify the situation among her and her siblings and keep a catalog of her mother's recipes, Joyce published "Family Favorites," which provides recipes and step-by-step instructions for creating traditional Lebanese dishes and American favorites.
The cookbook also features photos and stories from Brown's family album, complementing the recipes with endearing family tales and helpful cooking tips.
"Although it's a cookbook, there is a strong family storyline that resonates in the short stories that are weaved in and out of the recipes themselves," Brown said. "Furthermore, the family oriented angle of the book is demonstrated by the contributions that each of my siblings provided, from recipes to photos to memories."
In "Family Favorites," families everywhere can make and enjoy their favorite dishes to share across the dinner table and for generations to come.
"Family Favorites"
By: Joyce Brown
ISBN: 978-1-4897-1328-5 (sc); 978-1-4897-1329-2 (hc); 978-1-4897-1327-8 (e)
Available at the LifeRich Publishing Online Bookstore, Barnes and Noble, and Amazon
About the Author
Joyce Brown has always been an enthusiastic cook. At age eight, she created a coconut lemon cake, which won first prize at the county fair and in her 20s, her Dungeness crab enchiladas won a contest sponsored by Sunset Magazine. She is now retired from federal service. For more information about the author and her book, please visit: http://www.famfavoritescookbook.com