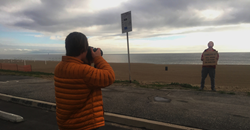 EL SEGUNDO, Calif. (PRWEB) November 17, 2017
Felix Massey, an enthusiastic high school student by day, will showcase how he manipulates light and lens in a photo exhibition that will open on December 2nd. The 17-year-old challenges perceptions of everyday sights and settings around his native Los Angeles home. The 72 images on view cover nearly half his life and highlight subject matter -- everyday workers, homelessness, urban events, commercialism, sports, beaches -- that has compelled him to prod the boundaries of the lens. Felix's technique often focuses on isolationism of a central element or theme, and homes in on his subject from a broader visual. His experimentation with highly sophisticated light manipulation enhances his imagery and gives certain visuals a cinematic look. His photographic perspectives are high, low, and below: aerial, ground level and submerged imagery. Massey's works are highly sophisticated, but with a twist of a teenage boy's sheer enthusiasm.
Massey has been a principal photographer of the national public art and civic program, Portraits of Hope, since he was a mere 10 years old. Massey's photos have captured iconic Portraits of Hope public art projects from The Los Angeles County Lifeguard Towers, Aspen-Snowmass Fire and Rescue Vehicles, NYC Lavanderias, The Spheres at MacArthur Park, Neon Nights in 3D art exhibition,The LA County Animal Shelters Revitalizations,The Point Public art exhibition, and hands-on participants from an array of social services programs, schools, and hospitals including Shriner's Children's Hospital, The Braille Institute, Miller Children's Hospital, Americorps, Special Olympics, among many others.
What:
Opening Night Reception For Felix Massey Exhibition
When:
Saturday, December 2nd, 5 - 7PM
Where:
The Edge
Plaza El Segundo
730-C S. Allied Way
El Segundo, CA 90245
Many of the images on display will be of Felix works produced during his time at LAUSD's Palisades Charter High School, CA, where he has honed his skills. Felix credits Palisades photography teacher, Mr. Steil, for his insightful mentorship and unbridled encouragement. A couple weeks back, Mr. Steil requested a photograph of the Palisades school's athletic field for school usage, and Felix's aerial image of the field soon-after was showcased on the front cover of the Palisades Post.
For media inquiries, please contact Megan Chambley at Melrose PR Megan(at)melrosepr(dot)com or call (310) 260-7901.
About Portraits of Hope
Portraits of Hope, a 501 (c)(3) program, develops high-profile motivational art and civic projects that merge the production and exhibition of dynamic public art with creative therapy for hospitalized children, civic education for students in schools, and community engagement opportunities for people of all ages. Founded by brothers Ed Massey and Bernie Massey, the Portraits of Hope program is aimed at enriching the lives of children and adults - many who may be coping with serious illness, disabilities, adversity, or socioeconomic challenges - through their participation in creative, educational, high-profile, one-of-a-kind projects. Portraits of Hope has involved tens of thousands of children and adults in huge civic collaborations - in the U.S. and abroad – that have visually transformed everything from airplanes, lakes, buildings, tugboats, and the New York City taxi fleet to LA's coastal lifeguard towers, race cars, blimps, laundromats/lavanderias, and frontline fire and rescue vehicles, by working with organizations from NASA to NASCAR. More than 1,000 hospitals, schools, and social service agencies have directly participated in Portraits of Hope projects in addition to a broad array of adult civic groups.