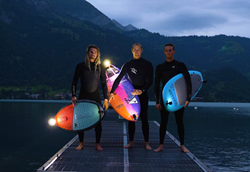 Between the skill of the athletes, the creativity of the content team, and the versatility of the Lume Cubes, this project resulted in one the coolest things I've ever been a part of."
SAN DIEGO (PRWEB) November 17, 2017
Earlier this September, Lume Cube (http://www.lumecube.com) set out to create their largest production to date with Youtube sensation Devin Supertramp behind the camera and a well rounded group of athletes, including Kiteboarder and Red Bull King of the Air Nick Jacobsen, Red Bull/GoPro Surfer Jamie O'Brien, professional skimboarder Austin Keen, and more. The cast and crew met in beautiful Interlaken, Switzerland where there is no shortage of adrenaline sports and adventure. The natural terrain of the Swiss Alps paired with professional athletes, content creators, and the world's most versatile light resulted in never-before-seen content. To help guide the crew through the ins-and-outs of Switzerland, Lume Cube linked up with local adventure guide company, Alpin Raft. The athletes were forced to step out of their comfort zones and overcome the adrenaline pumping activities that the crew at Alpin Raft would consider 'work.' These activities included a 134M bungee jump, canyoning, hang gliding, river surfing, wake surfing, white water rafting, and more. And of course, all of these activities were done the Lume Cube way… at night and lit by their powerful, compact, and waterproof lighting systems.
Watch video: https://www.youtube.com/watch?v=6RKEztvI1SQ
"This project started as an idea and it's incredible to see it come to life. Through a lot of planning, support from sponsors, a ton of teamwork, and amazing people, we've pulled off something truly epic. Between the skill of the athletes, the creativity of the content team, and the versatility of the Lume Cubes, this project resulted in one the coolest things I've ever been a part of," said Lume Cube founder and CEO, Mornee Sherry, who envisioned this project over a year ago on a holiday trip to Interlaken.
About Lume Cube: Lume Cube (http://www.lumecube.com) is a San Diego based company revolutionizing the way people capture content. Creating intelligent solutions in the world of imagery and casual capture devices, Lume Cube is disrupting the status quo and has created the World's Most Versatile Light™. Lume Cube was established in 2014 and will continue to lead the content creation market through forward thinking lighting solutions.