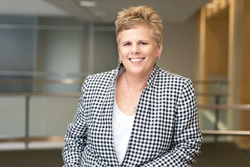 "Jayne is a visionary leader with a global perspective and a thorough understanding of our industry..." Keven Bennema
CHICAGO (PRWEB) November 17, 2017
One of the nation's leading senior living management companies, Charter Senior Living, announced today that Jayne Sallerson, a seasoned veteran in the senior living industry has joined the company as investor, partner and Chief Sales & Strategy Officer. In this new position, Sallerson will oversee all the Sales, Marketing and Strategy for the company. The new role is effective on November 27, 2017.
For the past 20 years, Sallerson has served in various senior management roles for both large and small senior care organizations. She has developed and executed sales and marketing strategies, as well as, infrastructures that have increased occupancy and sales management accountability for over 750 senior living communities throughout the US. Most recently she served as EVP of Sales for Benchmark Senior Living and spent 7 years as EVP of Sales & Marketing for Emeritus Senior Living prior to the Brookdale merger.
"The collaboration and partnership between sales and operations is the critical component to success in the senior living industry," said Keven J. Bennema, CEO of Charter Senior Living. "Jayne and I have a long history working together as a regional team early in our careers and we will continue to infuse this collaborative culture while implementing a proven customer-centered approach to sales that will drive higher conversions."
Jayne is a well-recognized and respected National Sales and Marketing Executive. She served as both Chairperson and Member of the Argentum Sales and Marketing Roundtable and is a frequent presenter on a variety of topics for the senior living industry's major national senior living conferences.
"Jayne is a visionary leader, with a global perspective and thorough understanding of our industry, where it is headed and how to adapt to the changing marketplace," added Bennema. "And her approach to sales aligns perfectly with our individualized and personalized approach to employee career development."
"The way we trained and managed sales years ago does not work in today's competitive market. Drawing on the past 20 years of knowledge gained on the most successful sales methodologies, I have a unique opportunity to bring this experience to Charter at a time it is positioned for continued and expanded growth," said Sallerson.
ABOUT Charter Senior Living:
Based in Chicago, Il., Charter Senior Living is a caring and compassionate leader within the senior living industry. Charter manages twelve senior living communities throughout the U.S., offering independent living, assisted living and memory care services. A family-owned business with an executive team with more than 100 combined years in the senior housing industry, Charter Senior Living's mission is to preserve the legacies of their resident with outstanding personal service and recognition of the dedication and commitment of its family of staff. Charter currently operates in Illinois, Georgia, Missouri, Tennessee and Florida, with executives placed in Chicago, Il., Tampa, Fl., Atlanta, Ga. and New Orleans, La. For more information, visit http://www.charterseniorliving.com.