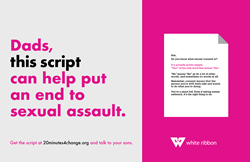 "One in three Canadians don't fully understand consent, much less how to talk about it with their kids. This year, by giving dads the script they need to have this conversation with their sons, the campaign is poised for even greater impact." - Humberto Carolo, Executive Director at White Ribbon
TORONTO (PRWEB) November 20, 2017
White Ribbon has launched 20minutes4change.org. The website is a continuation of the 2016 initiative which aims to end sexual assault by empowering dads to teach their sons how to be agents of positive change.
While the first year of #20minutes4change (originally launched as #20minutesofaction4change in 2016) urged dads to pledge to take 20 minutes to talk to their sons about consent and respect for women, the second year takes the initiative one step further by providing dads with the "Consent Script." The "Consent Script" is a script dads can use to teach their sons what consent is.
Humberto Carolo, Executive Director at White Ribbon said: "One in three Canadians don't fully understand consent, much less how to talk about it with their kids. This year, by giving dads the script they need to have this conversation with their sons, the campaign is poised for even greater impact."
Working with creative agency J. Walter Thompson Canada, the "Consent Script" will be everywhere dad is on November 25, the International Day for the Elimination of Violence Against Women. Out of home and digital out of home ads featuring the "Consent Script" will be live all around Toronto. Take home versions of the "Consent Script" will also be made available as coasters at restaurants in the city.
Additionally, media companies, influencers, politicians and organizations across Canada will donate their media space on November 25 to raise awareness for #20minutes4change.
Susan Kim-Kirkland, President and CEO at J. Walter Thompson Canada said: "It was incredible to see the outpouring of support for the initiative's inaugural year. I'm excited to see #20minutes4change mobilize more dads to raise a respectful generation of men."
"As the father of a young boy, I have a responsibility to shape him into a respectful, kind human being. With that comes conversations that aren't always easy. I'm proud to be a part of something that breaks down the barriers for fathers to have the critical conversation with their sons about sexual consent and respect for women," says Josh Budd, Chief Creative Officer, J. Walter Thompson Canada.
For more information on #20minutes4change, the "Consent Script" or downloadable assets to share on social media, please visit 20minutes4change.org.
ABOUT WHITE RIBBON
White Ribbon is the world's largest movement of men and boys working to end violence against women and girls, promote gender equity, healthy relationships and a new vision of masculinity. The organization works to examine the root causes of gender-based violence and create a cultural shift that helps bring us to a future without violence. It envisions a masculinity that embodies the best qualities of being human. We believe that men are part of the solution and part of a future that is safe and equitable for all people.  
ABOUT J. WALTER THOMPSON WORLDWIDE
J. Walter Thompson Worldwide, the world's best-known marketing communications brand, has been making pioneering solutions that build enduring brands and business for more than 150 years. Headquartered in New York, J. Walter Thompson is a true global network with more than 200 offices in over 90 countries, employing nearly 10,000 marketing professionals. The agency consistently ranks among the top networks in the world and continues a dominant presence in the industry by staying on the leading edge—from hiring the industry's first female copywriter to developing award-winning branded content today. For more information, please visit http://www.jwt.com and follow us @JWT_Worldwide.
ABOUT 20MINUTES4CHANGE.ORG
20minutes4change.org (#20minutes4change) is an initiative dedicated to ending sexual assault by empowering dads to educate their sons about consent and respect for women.
Originally launched on November 25, 2016 as 20minutesofaction4change.org (#20minutesofaction4change), the initiative was created in response to Dan Turner and the deplorable euphemism, "20 minutes of action," he used to describe the rape his son Brock Turner committed on campus. Now in its second year of operation, the initiative has evolved to focus on helping dads educate their sons about one of the main causes of sexual assault: lack of consent.
2016's Impact:

100K+ pledges
100+ companies and media partners
170MM media impressions
50MM social media impressions
o Out-trended everything, including #BlackFriday, on November 25, 2016