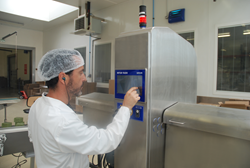 Mettler-Toledo Safeline X-ray generators previously came with 30 months' warranty, however, we're so confident in the reliability of our generators that we're extending this to five years for our X-Series systems," explains Michael Pipe, Safeline X-ray Product Management Head at Mettler-Toledo.
(PRWEB) December 04, 2017
To verify the quality and reliability of its generators and give food and pharmaceutical manufacturers additional confidence that their investment is fully protected, Mettler-Toledo Safeline is offering an industry-first - five-year generator warranty with all X-Series systems purchased with either a Standard or Comprehensive Care Package*.
X-ray technology has become critical in providing product safety and quality assurance worldwide, and to ensure continuous productivity and accurate, consistent results, regular maintenance, performance testing and replacement parts are essential.
The x-ray generator is not only the 'heart' of the system but also the most expensive component, which is why service contracts are so important. Mettler-Toledo generators typically come with 30 months' warranty, however by purchasing an x-ray system from the X-Series range, customers can benefit from market-leading generator warranty, which covers replacement wear and spare parts, labour and annual performance tests.
Mettler-Toledo offers three distinct Care Packages - Basic Care, Standard Care and Comprehensive Care. All three packages include:
1. Preventive maintenance which covers:

Cleaning and inspection of all mechanical components,
Testing and inspection of electronic components, and
Inspection for wear and damage.
2. Equipment operational testing is performed to identify and diagnose equipment problems and to confirm repair measures have been effective, and also to meet compliance with GFSI standards.
3. Full radiation survey to ensure operational safety.
Standard Care also safeguards against unexpected repair labour costs and includes access to a technical hotline, providing fast and efficient help for operational and set-up problems. Furthermore, Comprehensive Care allows customers to have full budget control by including repair labour coverage in the event of equipment breakdown and replacement parts coverage.
The five-year generator warranty, is designed to help manufacturers:

Increase output and profitability by enhancing uptime and Overall Equipment Effectiveness (OEE)
Minimise long-term impacts on the x-ray system by identifying defects that could potentially cause a sudden breakdown in the future
Avoid unexpected and costly downtime and repairs by ensuring equipment continues to operate at peak performance
Maximise equipment lifetime and return on investment by avoiding the impact of wear and tear
Comply with regulatory demands
Reduce Total Cost of Ownership (TCO) by increasing the reliability and longevity of the x-ray system
*Five-year warranty is not available with the Basic Care Package.