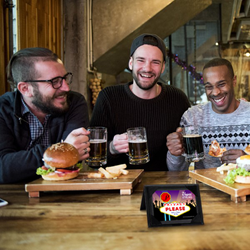 "We purchased these for our trip to Vegas and they came in handy countless times, absolutely a priceless purchase!"
LAS VEGAS (PRWEB) November 21, 2017
As a Paying Customer at a Restaurant or Bar, wouldn't it be great to get the service and privacy you want?
Never wait on a waiter or bartender again or have your privacy interrupted
Finally there is a solution for never again having to make awkward, hesitant hand gestures or embarrassing call-outs to a seemingly oblivious server, or perhaps worse, suffering the invasion of your privacy by a well-meaning but overly eager server.
Introducing Service or Privacy Please, the first product line designed for paying patrons of most bars & restaurants, consisting of highly visible, personal & portable request signs, which when displayed, signals the service or privacy needs with dignity and respect for all parties involved.
Service or Privacy Please was conceived, created and is made in Las Vegas, NV, where both service and privacy are of premium value and paramount importance.
"In a saturated digital world where plasma screens seemingly are everywhere, we have created the perfect analog solution that can effectively enhance the service experience for almost anyone by offering restaurant and bar patrons an array of very visually appealing and equally effective, portable table or bar top signs," says Service or Privacy Please company and co-founder, Brenda Brown.
Furthermore, Brown states: "Those who see this idea, are amazed that no one has thought of it until now. We have created a unique product that empowers the consumer to gain control over what they are already paying for while also providing them with a vast variety of designs to choose from."
Win / Win
The creators of Service or Privacy Please set out to design a product line that would create a win/win in the hospitality industry. Ms. Brown took the concept to the front lines and engaged with servers in restaurants and bars who strongly indicated that if there was a way for them to know the service or privacy preferences of their customers, it would be most welcomed. In essence here is what they said. "Having a way to know those kind of cues would obviously help us provide a better level of service and, as a result, we'd likely get better tips too."
How It Works
Service or Privacy Please signs can work three ways; first, as an alternate-sided display to signal the server when service is needed (green dot) or when privacy is preferred (red octagon); second, both sides can show the Service Please green dot only or third, both sides can show the Privacy Please red octagon only.
Upon the server's initial greeting, the user simply needs to take out from his/her pocket or purse, the Service or Privacy Please sign in its leather holder. "From there, it takes less than a minute for the casual introduction of the concept to the server" says Ms. Brown. "The sign gets placed at the edge of the table for the server to see for the remainder of the stay, which, during that time, will provide the wait staffs cues for when to approach or to respect some privacy time".
Service or Privacy Please is a Las Vegas-based company and a standard product package consisting of any pair of over 250 designs with a durable leather two-sided tent holder, velvet draw-string carrying bag retails for $17.99 available through the company website. In addition, all designs can be customized with adding a name or logo and all products are available to be boxed, packaged and sent as a gift or business promotion.