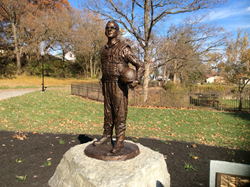 HUNTINGTON, Ind. (PRWEB) November 19, 2017
Veteran's Day is a holiday that is filled with gratitude and emotion for United States soldiers, past and present. This family in Indiana was no excuse to this. This memorial was created to honor a Vietnam War soldier by the name of Thomas Parker, who's body was never found. The 50th anniversary of his death is next year. A family friend of Thomas Parker and his daughter Rachel inquired of Big Statues to create this incredible statue of the Navy Corpsman. To make it even more special, the unveiling was set to be on Veteran's Day.
To no surprise, this statue had an emotion-filled impact on the community. People described the unveiling as, "moving," "emotionally draining," "heart-warming," "touching," and "proud." Donald Campbell himself stated the following about the unveil: "The moment I heard the... helicopter as it approached overhead, as Rachel was about to unveil the statue, made me feel stark emotion right to the core of the bone... When I saw the bronze image of Thomas, I was overcome with extremely proud emotions."
This statue will no doubt continue to have a lasting impact on this community and to all of those who visit the park. Big Statues was honored to be a part of such a personal and meaningful project.