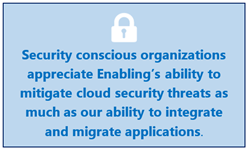 "It is no longer a question of "if", but more a question of "when" a phishing attack will occur and what will be the financial, public relations, and operational impact on the business.
BONITA SPRINGS, Fla. (PRWEB) November 20, 2017
Enabling Technologies, focused on Enabling Secure Productivity in the Cloud, has combined Microsoft Security applications with Enabling Intellectual Property to develop the Breach Guard suite of solutions. Included under Breach Guard is a new Threat Response Service for detection and response to account and application compromise.
The Challenge is that attackers spend 140+ days inside an organization before they are detected. Your organization can do one of three things: wait and see if you have an issue, hope to catch the attacker during a random search of logs, or have issues analyzed near real-time using our new Threat Response Service. Enabling Technologies' feedback from clients found that sifting through all the information to find a rare breach was too time consuming. The Breach Guard suite of security solutions were developed to give administrators a short list of automated actions to remediate.
We combine Microsoft's tools and our forensic knowledge to analyze threats, customize rules, and automate responses to targeted attacks. Administrators will get a short list of actionable next steps and then take a predetermined action, and users are left with clean accounts and less risk. The Breach Guard solutions include Phish Hunter(http://www.enablingtechcorp.com/Solutions/Secureit!/PhishHunters.aspx) designed specifically for business email compromise and now Threat Response Service which covers the detection and response for accounts that are compromised. Nearly all of our clients are moving to the cloud and they are very concerned about security and the menacing threat of phishing attacks.
"It is no longer a question of "if", but more a question of "when" a phishing attack will occur and what will be the financial, public relations, and operational impact on the business. Businesses recognize they need to be proactive and vigilant in safeguarding email communication and identity management to avoid costly litigation from persistent breach attacks," says Bill Vollerthum – President of Enabling Technologies Corp.
About Enabling Technologies:
Enabling Technologies is the leading Systems integrator of Microsoft Office 365 solutions. Enabling has 25 years of messaging and real-time communications experience and over 1500 deployments of Microsoft Skype for Business/Lync, Exchange and Exchange Unified Messaging and Office 365. Enabling's tried-and-true processes have helped customers minimize risk, maximize existing investments, and optimize the end-user UC experience. Enabling takes an all-inclusive approach to projects, mastering the technical components while also optimizing the people and process side to technology rollouts. We specialize in secure Cloud solutions including Office 365 and Azure AD, Multifactor Authentication, Intune, Azure Information Protection, Cloud App Security, and Azure Security Center. Having Enabling design, implement, and proactively monitor your Office 365 and Skype for Business systems is the first step to changing the way your workforce thinks about communications, for the better. Enabling Technologies' staff is comprised of seasoned, certified IT professionals who work with a range of next-generation technologies and can recommend and implement the "right solution" for our customers. As validation, Enabling Technologies, a four-time recipient of the Microsoft Partner of the Year award, has provided professional services and solutions to organizations of various sizes from such diverse industries as government, legal, financial, pharmaceutical, manufacturing and medical.