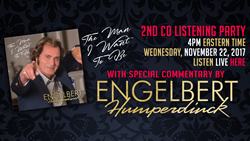 NEW YORK (PRWEB) November 17, 2017
Independent record label OK!Good Records will be hosting a special worldwide listening party to celebrate the upcoming release of Engelbert Humperdinck's new album, "The Man I Want to Be". On Wednesday, November 22, 2017 at 4:00 PM EST/8:00 PM GMT, Engelbert Humperdinck fans who tune in to the livestream will get to hear his track-by-track commentary on his upcoming album, 'The Man I Want to Be'. Listen along with Engelbert fans worldwide as he shares the process behind writing and recording each song on the album two days before it is released on Friday, November 24, 2017. There will also be a surprise giveaway for listening party attendees. The listening party will take place on a YouTube live stream at https://www.cdlisteningparty.com
A love-letter to his wife of 53 years, "The Man I Want to Be" includes songs by Ed Sheeran, Bruno Mars, Willie Nelson, Jon Allen, Richard Marx, and more!
The official list of songs includes:
1. Absolute Beginner
2. The Man I Want to Be
3. Just the Way You Are
4. How Can You Live With Yourself
5. Just Like the First Time
6. Photograph
7. I'm Glad I Danced With You (with Olivia)
8. Prodigal Son
9. I Followed My Heart
10. Songs of Love
11. Crazy
12. On Broadway
13. Welcome to My World
14. Our England
The album is available for pre-order from the following stores:
OK!Good Records Shop: http://www.okgoodrecords.com/g/themaniwanttobe
Amazon CD: http://a.co/dd73k4C
Barnes And Noble: http://bit.ly/2Apygwk
Amazon Digital: http://a.co/dmAF3sS
iTunes/Apple Music:http:// http://apple.co/2xOIdRf
Google Play: https://goo.gl/a6Jnbm
Iconic careers don't come any bigger than Engelbert Humperdinck's. One would be hard pressed to find anyone who isn't familiar with his multi-platinum selling hits such as "Release Me", "The Last Waltz" or "After The Lovin'". These and many other of his hits have contributed greatly to 150 million worldwide album sales by the "King of Romance", as Engelbert is lovingly nicknamed by his legion of fans. Just having entered a new decade of his life, the very youthful Engelbert is also celebrating his 50th year in showbiz with the release of a brand new album "The Man I Want To Be". Not content with being a legacy artist, Engelbert demonstrates effortlessly with this album (his first album of original material in over a decade), that he is very much a relevant artist for today's audiences as he has been over the last five decades of his career.