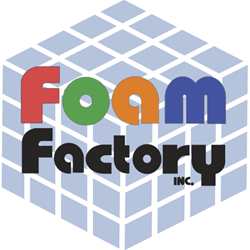 "Everyone has been in that situation: moving furniture through a tight hallway. If you're moving an executive's desk, you're not going to want to be the person who has to explain a dent or scratch."
Southeast Michigan (PRWEB) November 21, 2017
The Foam Factory, makers of foam replacement and accessories for home and commercial use, has created new packaging foam designed to virtually eliminate scrapes and dents on furniture and industrial machinery. Designed for industrial or residential moving purposes, this foam pad is ideal for any scenario that requires delicately maneuvering of furniture in enclosed spaces.
"Everyone has been in that situation: moving furniture through a tight hallway. If you're moving an executive's desk, you're not going to want to be the person who has to explain a dent or scratch," says Carlo Badalamenti, marketing director for The Foam Factory. "Polyethylene gives the density necessary for extra protection. It absorbs all the impact, and we've cut convenient strips so you order, cut to your desired size and you can even choose to tape them down." Each strip is cut to 70" length, with 2 lb polyethylene foam.
The foam strips also help secure windows in place during transport, an important concern for construction projects. The U-channel support structure of the foam strips allow for easy placement, and additional support. The advantage is that furniture, or windows, move and jostle less during transport. In addition, the foam absorbs impacts of even small brushes with walls and doorways, dramatically reducing the risk of scraped and visible defects during movement. Polyethlyene tubes are also available, which are useful for insulating pipes for winter weather, or as insulation in a home garden.
Foam strips are available now at the company website, with several profiles to choose from. Some strips are subject to a size tolerance, but staff are standing by to assist customers in determining which strip is right for their particular application.
About The Foam Factory
The Foam Factory, located in Southeast Michigan, is a family-owned and financed foam manufacturer and distributor serving the United States and Canada. Specializing in custom foam cushions, cushion filling, industrial packaging, rubber, sponges, and more, the manufacturer operates a 310,000 square foot facility with cutting edge technology. The company is focused on providing top notch customer service, with an affordable range of products useful in both home and commercial applications. The Foam Factory combines manufacture and retail to serve every kind of customer, allowing anyone with an idea to accomplish that goal.