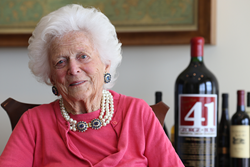 HOUSTON (PRWEB) November 20, 2017
University of St. Thomas Cameron School of Business honored Former First Lady Barbara Bush with its 2017 Ethical Leadership in Action Award at its Business Symposium held on Nov. 17.
This year's Symposium continued to encourage professionals to engage in innovative and socially responsible business practices. The Cameron School of Business is known for producing graduates equipped to enter the business world as ethical and socially responsible leaders.
It is for this type of leadership that Mrs. Bush is being honored. A tireless advocate for literacy and volunteerism, Mrs. Bush made a life commitment to the noble calling of public service.
St. Thomas' Ethical Leadership in Action Award honors an individual who has displayed uncommon leadership and social responsibility; demonstrated great foresight; and benefited the City of Houston in a way that lives on in the community. The University of St. Thomas community celebrated the transformational achievements of the Barbara Bush Foundation for Family Literacy.
The mission of the Foundation is to improve the quality of life for Houstonians of all ages through the power of literacy – the ability to read, write, speak clearly and think critically. Previous award recipients include prominent Houstonians Charles Miller, Jack Blanton, George Martinez, Jim Ketelsen, Drayton McLane and David Weekly.
Neil Bush: Symposium Keynote Speaker
Accepting the award on behalf of Mrs. Bush was her son Neil Bush, who served as the Symposium opening keynote speaker. Bush is an international businessman who is active in service. He serves as chairman of the Points of Light Board of Directors, where Bush expands his father's vision of inspiring, equipping and mobilizing volunteers to increase capacity for vital social services and for finding innovative solutions that lift individuals, strengthen families and renew communities. Bush also drew on social entrepreneurship referencing his daughter Lauren Bush Lauren's FEED program, which engages people in the fight against hunger.
.
Cameron Business Symposium Sessions
The one-day symposium held on the UST campus is the largest professional development and networking event at the University. Participants included St. Thomas students, alumni, faculty and friends from throughout the Houston community. This symposium was an opportunity to be inspired and learn from Houston's leading business experts.
The day began with an opening keynote, followed by three sessions on current trending business topics. Track topics include: banking and finance, biotech, entrepreneurship, ethical leadership, human services management, innovative business practices, oil and gas, real estate and social entrepreneurship.
After the keynote address, UST commemorated the 10th anniversary of its Social Entrepreneurship Program.