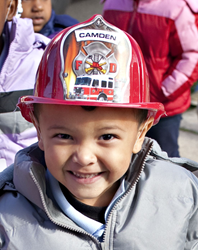 "The sheer joy and excitement on a child's face when they get to pick out their very own coat in their favorite color, there is nothing quite like it."
Chadds Ford, PA (PRWEB) November 20, 2017
Since 1998, national nonprofit Operation Warm has turned the concept of a "coat drive" on its head. With nearly 14 million children living in poverty within the U.S., the need for winter clothing during this time of year is a widespread issue throughout the country. But instead of collecting used coats for kids, Operation Warm works directly with manufacturers to provide their very own line of brand-new, colorful winter coats.
"We believe every child deserves a gift around the holidays. The gift of a new coat not only keeps a child warm, but provides a boost in self-esteem, school attendance and outdoor play," explains Dick Sanford, Operation Warm Founder & CEO. "The sheer joy and excitement on a child's face when they get to pick out their very own coat in their favorite color; there is nothing quite like it."
An important milestone in Operation Warm's mission came in 2012, when they were honored to begin a partnership with the International Association of Fire Fighters (IAFF), a group whose members are deeply committed to keeping their communities safe. Since that time, hundreds of firehouses have answered the call to become Firefighters for Operation Warm, pledging their resources to providing new winter coats to low-income children in the neighborhoods they serve.
"Our firefighter partners often sacrifice days off, weekends, and time away from home to help fundraise for Operation Warm projects in their own communities," Sanford continues. "We're proud to report that since this partnership began, Firefighters for Operation Warm has provided a quarter million brand-new coats to kids in need across the United States."
Over the past two years, Operation Warm has dedicated #GivingTuesday to help the firefighters reach more children in need of warm clothing. #GivingTuesday is the Tuesday following Black Friday and Cyber Monday, an online movement to create an international day of giving at the beginning of the holiday season.
Operation Warm announced today that their 2017 #GivingTuesday campaign is launching a week early, with the goal of raising $100,000. The funding would help to provide thousands of brand-new, colorful winter coats to kids in need. Now through November 28th, online donations to the Firefighters #GivingTuesday campaign will be doubled up to $50,000.
"I believe it's our personal responsibility to help others," Sanford expands. "No child should be left out in the cold or be forced to walk to school in freezing temperatures without a coat. This campaign will truly impact the lives of thousands of children just in time for the holidays."
To learn more or to donate, visit http://www.operationwarm.org/givingtuesday
About Operation Warm: Since 1998, Operation Warm has inspired hope and empowered communities by manufacturing and distributing high-quality, new winter coats to over 2 million children in need. The nonprofit works with organizations at a community-level, assisting local advocates to help children receive coats in their own neighborhoods. Operation Warm's vision is that every child wearing a new winter coat is warm, feels valued, and is empowered to get to school and gain an education.