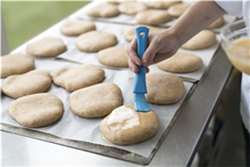 ZIONSVILLE, Ind. (PRWEB) November 20, 2017
Remco Products proudly introduces the UST Detail Brush from Vikan, the smallest brush to join the Ultra Safe Technology line. The small brush is ultra-hygienic, FDA-compliant, and fully molded. Useful as either a cleaning tool or a pastry brush, this product is appropriate for bakeries, food manufacturing facilities, pharmaceutical manufacturers, and wherever hygiene is a top-priority.
Corners, crevices, narrow gaps, and other hard-to-reach areas make perfect hiding places for dry debris, including allergens. These areas are also difficult to clean without just the right brush. With its optimized soft bristles, great ergonomics, and UST advantages, the UST Detail Brush is ideal for cleaning these areas. The narrow block and long bristles allow the brush to get into the crooks and crannies other brushes can't touch, and the soft bristles easily clear soils away.
The UST Detail Brush is the latest Vikan brush to feature Ultra Safe Technology. UST brushes incorporate hygienic design principles and the fully molded UST bristle system, giving users:
•Vikan's best cleaning efficacy
•Easier hygienic cleaning of the brush
•Lower risk of bristle loss
•FDA-compliant material
•Minimized risk of cross-contamination
The Detail Brush can also be used as a pastry or glazing brush. The bristles are soft enough to spread butter, eggs, and oil over delicate pastries without damaging dough or the finished product. The brush's small size gives workers superior control when in use, too. It's also a more hygienic option to standard pastry brushes and comes in eight colors to support color-coded HACCP plans.
Along with other brushes in Vikan's Ultra Safe Technology line, the Detail Brush can take end users to the next step toward the greater hygienic certainty that only Remco and Vikan delivers.
About Remco Products
Remco provides color-coded tools for cleaning and material handling where hygiene and safety are critical. The introduction of a food-safe poly shovel more than 30 years ago established Remco as an industry pioneer of hygienic design. In addition to its hygienic shovels, scoops, and scrapers, Remco features Vikan's advanced line of brushes, brooms, and squeegees. Together with Vikan, Remco supports color-coding plans by offering more tools in more colors than any other supplier. Remco also provides training and support to end users, helping ensure regulatory compliance. Regardless of an operation's size or complexity, Remco has the tools and expertise to help execute HACCP color-coding plans.