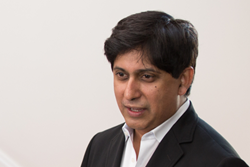 LOS ANGELES (PRWEB) November 17, 2017
Everybody worries, but when worry is excessive, people may develop a condition called Generalized Anxiety Disorder (GAD). GAD is characterized by a persistent worry about a number of different things, and entails frequently anticipating disaster and failure and having difficultly in controlling one's own worry.
Dr. Srini Pillay – Harvard Medical School Professor, Author, Psychiatrist, and Brain Researcher – explains that there is an explanation for why people with GAD worry so much. Regarding the reasons for worry, Srini says, "Their worry is their brains' attempts to protect themselves from possible negative future events."
Srini goes on to explain how worrying about something actually puts one's mind into a negative state, which can actually be useful, "because then when something negative does happen, you don't feel that much worse – you've already been feeling bad." People with GAD hate the contrast of a situation unexpectedly going south, and will do anything to avoid this sudden shift. In other words, worriers seem to find worrying helpful for getting by in their daily lives.
"As challenging as this sounds, there are things that you can do to retrain your brain to stop worrying," Srini assures. "Cognitive behavioral therapy and other forms of talk therapy work for some individuals according to multiple studies, and medications can also be of service."
While multiple forms of talk therapy and medications are helpful and commonly used methods of controlling anxiety, Srini suggests an additional approach to the problem. "Rather than challenging yourself or someone else about worrying, you can actually accept that the worry is serving a purpose," Srini says. "Then, start to delve deeper so you can discover that the negative swing is probably less negative than you think. Accepting that the worry has not been helpful is the next step."
More information on Dr. Srini Pillay can be found here: https://drsrinipillay.com/meet-srini/.