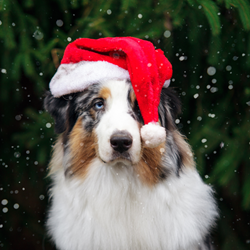 No one wants to be bathing a dog right before guests arrive.
WILTON, Conn. (PRWEB) November 20, 2017
Of all the tasks needed to prepare for the holidays, the one often forgotten – until the last minute – is making the dog company-ready.
"No one wants to be bathing a dog right before guests arrive," says Traci Simo, of pet care services provider Canine Company. "It's important to plan ahead because professional groomers book up quickly for December."
If you can't get an appointment and need to tackle the job yourself, she recommends the following five-step approach to getting a dog ready for guests:

Deep brush the coat – preferably outdoors -- to get rid of loose or shedding hair. For longer haired dogs, it's important to work out any knots. A steel-pinned comb will help with removal and an untangling spray can make the process more comfortable for the pet.
Shampoo and condition using products specifically formulated for pets. Because dogs skin has a more alkaline pH, human products can encourage the growth of bacteria and odor.
Towel dry, combing or brushing as the coat air-dries. To avoid burns, it's better not to use a home hair dryer. If speed drying is needed, set the appliance on the coolest setting.
Trim nails while the coat is drying to be sure they won't scratch a guest or snag holiday attire.
Brush teeth. Even a freshly washed dog can have sour breath, so a quick teeth cleaning will ensure guests are treated to a sweet greeting.
Simo recommends scheduling the grooming a week in advance, whether booking a professional or going DIY. "Your dog will stay guest-ready for a week and, as an added bonus, you won't have to do a lot of last-minute dog hair clean up around the house!"
"On the big day, just do a quick touchup with pet grooming wipes, add a holiday scarf, collar or even a fun headband and your pet is company-ready.
Canine Company offers products and services to help pet parents keep their dogs and cats healthy, safe and happy at home, including the Invisible Fence® pet containment systems and Manners® dog obedience training. The company's Mobile Pet Spa, available in select markets, comes to the client's home to save time and reduce stress on both pet and pet parent.