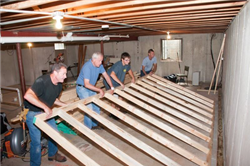 Volunteers Needed To Rebuild Hurricane-Devastated Homes.' Within a day, Virginia and I had our plane tickets.
HOUSTON (PRWEB) November 20, 2017
"I'd been trying to connect with an organization to help ever since I learned about the devastation," says AIM Dental Marketing President Daniel A. 'Danny' Bobrow. "I was scheduled for disaster relief training with the American Red Cross to be deployed '..at a location to be determined.' I then received an email from the hospital's emergency department where I volunteer with the subject 'Volunteers Needed To Rebuild Hurricane-Devastated Homes.' Within a day, Virginia and I had our plane tickets," concludes Bobrow.
The organization, Barrington Regional Hurricane Relief, requested volunteers to travel to Houston at their own expense to help those in need to repair and rebuild hurricane-devastated homes in the Harris County area in November.
The need is great.
Over 185,000 homes were estimated to be damaged or destroyed, according to the Texas Division of Emergency Management, leaving tens of thousands of residents homeless.
The Barrington Regional Hurricane Relief team is working closely with local partner Annise Parker of Baker Ripley, who will help the Team identify those areas where the team can make the greatest impact.
Projects will take place in economically challenged areas where homeowners cannot afford to make the repairs that are need to make their homes habitable again..
"Having worked in our funded oral health projects overseas will no doubt help us to acclimate to our Spartan surrounds," says Norton. "We know people are in need and, with so many disasters occurring to so many fellow human beings we simply chose not to sit back and observe from afar. We're fortunate to have the means and flexibility to participate in such events – we're sure we'll come back with new friends and happy in the knowledge we've made a difference," concludes Norton.
The AIM Team also manages The Dentists' Climb For A Cause Foundation, a special fund raising enterprise of AIM Dental Marketing, the nation's oldest full service dental marketing agency. Learn more at http://www.AmericanDentalMarketing.com
Volunteers and charitable donations can be made online through The Build Team at http://www.BRHRelief.org.