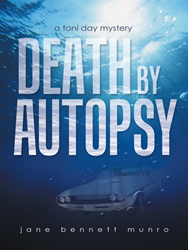 TWIN FALLS, Idaho (PRWEB) November 20, 2017
Author and career pathologist Jane Bennett Munro has released the fourth installment in her award-winning Toni Day murder mystery series, "Death by Autopsy."
The story follows pathologist and crime investigator Toni Day as she is faced with a situation that most in her field only joke about – Beulah Pritchard comes back to life on her autopsy table. To save her career and the hospital, Day sets out on an investigation uncovering a decades-old scheme and must confront a vicious and clever murderer who will do anything to keep the past under wraps.
"I was inspired to write this story after one of my friend's daughters said 'Ew you do autopsies? On dead people?' after she found out I was a pathologist," said Bennett Munro. "I responded back, 'Certainly. Those live ones whine too much' with my friend adding in 'Besides, it would be death by autopsy.' This story has since assumed a life of its own and after receiving encouragement by my friend, it became the topic of the fourth book of my Toni Day crime mystery series."
"Death by Autopsy" is an award-winning novel, having received third place in best mystery by the Feathered Quill Awards, is a five-star reviewed book on Amazon, and has received critical praise.
"Readers may know in their heart of hearts that Day is too competent to cause a death, but this lively whodunit will keep them guessing until the end." – Kirkus Review
Bennett Munro, who herself has nearly four decades in pathology experience, incorporates her own medical and forensic knowledge into her grisly descriptions of her book's victims, offering readers a realistic and gritty story that will leave them riveted.
"Death by Autopsy"
By Jane Bennett Munro
ISBN: 978-1-4917-4479-6
Available at the iUniverse Online Bookstore, Barnes & Noble and Amazon
About the author
Jane Bennett Munro holds a medical degree from the University of California, Irvine, and is certified in anatomical and clinical pathology. A hospital-based pathologist for 39 years, Bennett Munro has some experience working in forensics. She currently resides in Twin Falls, Idaho. To learn more, please visit http://www.janebennettmunro.com.
Review Copies & General Inquiries:
LAVIDGE – Phoenix
Lauren Dickerson
480-998-2600
Ldickerson(at)Lavidge(dot)com