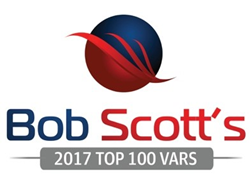 "At Arxis, our mission for more than 20 years has been helping transform organizations through strategic technology. Being included among this group of esteemed peers is a testament to our team. They are all passionate, knowledgeable, and customer-focused and accolades such as this confirm that," sa
SIMI VALLEY, Calif. (PRWEB) November 21, 2017
Arxis Technology, Inc., a technology consulting firm and revenue recognition criteria experts specializing in the sale, implementation, customization, and support of Sage Intacct Cloud financial management software and Adaptive Insights cloud CPM software, proudly announced today it was included in the 2017 Bob Scott's Insights Top 100 VARs list, continuing its streak.
The Top 100 VARs special report ranks value-added resellers by annual revenue and number of employees. It's a national ranking of firms that excel in the delivery and support of best-in-class, fully-integrated ERP and corporate performance management systems.
"We are proud to be included in Bob Scott's list every year because it validates our mission to transform finance and accounting in growing companies. Finance leaders face complex revenue recognition criteria as a result of ASC 606 and IFRS 15 in the largest sweeping changes to accounting in decades which will cause significant disruption for companies selling subscriptions or contracts," said David Cieslak, CPA.CITP, and Arxis principal.
"At Arxis, our mission for more than 20 years has been helping transform organizations through strategic technology. Being included among this group of esteemed peers is a testament to our team. They are all passionate, knowledgeable, and customer-focused and accolades such as this confirm that," said Bob Gaby, CPA.CITP, and Arxis Principal.
"We want to congratulate this year's class of Bob Scott's Top 100 VARs," said Bob Scott, executive editor of Bob Scott's Insights. "This selection represents recognition of leaders in this important field."
The special report, which includes names of the organizations selected for this year's Top 100 list, ranked by revenue, is downloadable here.
About Arxis Technology, Inc.
Arxis Technology is a certified Sage Intacct Premier Partner and Adaptive Insights featured partner with offices across the country, including Los Angeles, Orange County, Baltimore, Washington DC, Chicago, and Phoenix. Our best-in-class solutions, including Sage Intacct, Adaptive Insights, and AvidXchange, enable finance teams to streamline revenue recognition, multi-entity reporting, accounts payable automation, dual reporting, financial forecasting, fund management, intercompany eliminations, cash flow projections, and global consolidations. Arxis assists organizations outgrowing QuickBooks and other legacy ERP systems that need to replace outdated, inaccurate manual processes, and eliminate reliance on spreadsheets.
Since 1994, Arxis has helped growing companies maximize their technology resources and investment. Over the years, we have helped hundreds of small- and medium-sized businesses as their strategic business partner. We specialize in the needs of Entertainment, Software & SaaS, Professional Services, Manufacturing, and Non Profit organizations. Our experienced consultants have a passion for making every facet of your business successful and are intent on building a long-term relationship with every client. For more information about Arxis, visit http://www.arxistechnology.com, or call (866) 624-2600.