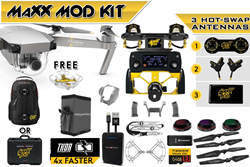 (PRWEB) November 18, 2017
The past year plainly illustrated how drone leader DJI continues to push the limits of drone technology, innovating unique and useful drones that pilots love; the perfect example is the debut of the DJI Mavic Pro. In 2017 DJI upped their game, introducing the DJI Mavic Pro Platinum: this souped-up Mavic features an eye-catching chrome color and brand new propellers that improve flight time and reduce noise pollution. With the introduction of the Platinum Mavic, Drone World has a brand new aircraft and already it has compiled a brand new kit for it: the DJI Mavic Pro Platinum MaXX Mod Kit. Given the industry best accessories found in the original MaXX Mod Kit, a Platinum MaXX Mod upgrade kit is bound to turn some heads.
"The Mavic Pro has been an unbelievably popular drone, and for good reason. It's compact, durable, and shoots 4K video; we knew that our upgrade kit had to be equally valuable, and that was exactly our intent with the Platinum edition," commented Chris Brunasso, Vice President of Drone World. "Ultimately we aim to complement each drone with our kits, enhance their strengths and engineer a final product that epitomizes aftermarket performance. Our team is hard at work developing better charging systems, faster carbon fiber propellers and aftermarket antennas; all new and silver-colored to perfectly match the Platinum Mavic's signature hue."
Although the Platinum is easily distinguishable from its predecessor on looks alone, what's under the hood are other notable upgrades. The two essential differences are: 1) a boost in flight time, adding 3 minutes for a total of 30 minutes in the air and 2) a substantial reduction in noise while in motion thanks to brand new propellers. To take a deeper dive into these improvements, be sure to check out Drone World's Mavic Comparison. Other useful resource pages are the Mavic Platinum FAQ, found here, and the DJI Mavic Pro Accessories.
Drone fans will be happy to know they can win their very own Mavic Pro Platinum MaXX Mod through Drone World's Giveaway by visiting Drone World's Facebook page at Facebook.com/DroneWorldTeam. The giveaway lasts until December 20th, and all are encouraged to enter by signing up and liking the Drone World Facebook page.
First time buyers and longtime fans will appreciate Drone World's new way to pay, financing a drone. Gone are the hassles of renting and leasing, as consumers choose among 12, 24, and 36 month plans with low monthly payments.
About Drone World:
Drone-World.com is the Web's preferred destination for consumer and professional unmanned aerial drones, drone kits, and drone accessories. Drone-World.com combines superior customer service and know-how with over 5 years of drone experience and 10 years of web sales and service. They specialize in custom DJI Phantom & Mavic bundle kits, including the highly popular DJI Phantom 4 Pro/+ Executive & Falcon Edition kits featured in RotorDrone Magazine as well as commercial use Inspire 2 kits, Osmo kits and the newly released DJI Phantom 4 Pro kit and the DJI Phantom 4 Pro+ (Plus) bundle. Use coupon code ACC15 for 15% off Drone World brand accessories.
For more information contact:
(888) 901-3108
sales(At)drone-world.com