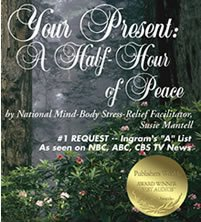 "Most of us are more strung out than the lights on our trees. It's time we stuff our stockings with 'Your Present: A Half-Hour of Peace.' Relax, release, renew the spirit," -The Fort Worth Star Telegram.
CHAPPAQUA, N.Y. (PRWEB) December 05, 2017
Stress Relief Expert Susie Mantell's award-winning sleep meditation CD, "Your Present: A Half-Hour of Peace," ("Best Audios of the Year" -Publishers Weekly) has been an Amazon bestseller in multiple genres. Listeners include The Mayo Clinic, The Betty Ford Center, Memorial Sloan-Kettering Cancer Center, and men and women of all ages who could really use a great night's sleep.
Like an easy chair, with a voice described as "liquid" Mantell's soothing narration lulls listeners into deep, effortless relaxation. "Susie Mantell's voice surrounds nerve endings like salve. Don't ask how. It just does. Here's help for back spasms, headaches, sleeplessness," says Denver's Rocky Mountain News.
An oasis from a hectic day, or prelude to deep, restful sleep, "Your Present: A Half-Hour of Peace" is physician-recommended for symptoms associated with:

Stress, Insomnia, Anxiety, Depression
Chronic Pain, Long-Term Illness, Grief
Caregiver Fatigue, Cancer, Addiction
Traumatic and Work-Related Stress, etc.
The Los Angeles Times says, "Is your greatest wish for peace on earth? Susie Mantell's 'Your Present: A Half-Hour of Peace' takes listeners on a gentle journey, effortlessly floating worries and stress away." Billboard suggests, "For anyone tense from the stress of modern life... a wonderful way to relax, and feel refreshed and rested afterward." Susie Mantell also customizes stress management for clients including The Coca-Cola Company, Ford, AETNA, New York Hospital, Verizon, Citibank and Canyon Ranch Health Resorts.
"Award: 'Best Audios of the Year' " - Publishers Weekly
"Bestseller" - Amazon.com (in multiple genres)
"Superb relaxation narration. Well-made for any comprehensive pain program." - The American Pain Society, John D. Loeser MD, Neurosurgery
"Highly Recommended" - Library Journal
"Terrific corporate gift!" - Remington, Ann T. Buivid, President, U.S. Personal Care
"As Good As It Gets" issue - Town & Country
"Best Original Work" - Audie Awards Finalist
"Invaluable... Mantell creates a uniquely positive healing environment."- Canyon Ranch Health Resorts, Sarah Blexrud
Buy-5-Get-6-Gift-Giving Special Only on RelaxIntuit.com
"Your Present: A Half-Hour of Peace," is a thoughtful, meaningful Christmas present, Hanukkah gift, or healthy, affordable stress relief gift for any occasion. Exquisitely packaged, and bearing a gold embossed award seal, just add a bow and give everyone on your holiday shopping list what they long for most: instant stress relief and deep, effortless sleep.
A Thoughtful Business Gift Too
"Wise managers understand that the bottom line of any business is inextricably linked to employees' physical, emotional and mental health," says Relax Intuit™ LLC's Dan Bradford. "Affordably priced at just $14.95, 'Your Present: A Half-Hour of Peace' is the uniquely thoughtful business gift that won't break the bank." In fact, RelaxIntuit.com offers a "Buy-5-Get-6 Gift-Giving-Special," so with every 100 copies of "Your Present: A Half-Hour of Peace" ordered on RelaxIntuit.com, shoppers get 20 additional copies absolutely free.
Mindfulness & Meditation Made Easy
Multisensory mind-body stress relief facilitator Susie Mantell explains, "In these complex times, pervasive day-to-day stress can make us more vulnerable to illness, depression, forgetfulness and even pain, resulting in a society that's often exhausted, and more than a little cranky. Guided imagery meditation is a powerfully effective, user-friendly technique for mitigating the harmful effects of stress." Mantell continues, "Within each of us there's a place that knows perfect peace. 'Your Present: A Half-Hour of Peace,' helps light the way."
Also in Bookstores: ISBN 978-09640724-1-0 $14.95 U.S.
Follow, Like & Share Our Mind-Body Stress Relief Tips on Twitter & Facebook @relaxintuit
About Relax Intuit™ LLC
Based in Westchester County, NY, Relax Intuit™ LLC is a highly ethical provider of award-winning stress relief expert Susie Mantell's mind-body stress reduction and wellness techniques, and the publisher of Mantell's bestselling sleep meditation audiobook, "Your Present: A Half-Hour of Peace."(CD) These are intended as an adjunct to, never a substitute for, professional health care. Listeners of "Your Present: A Half-Hour of Peace," and visitors to RelaxIntuit.com should always consult a licensed medical professional regarding any technique that might in any way affect health or well-being.