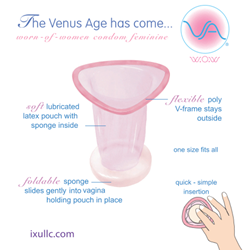 The Venus Age is coming to American women!
PETOSKEY, Mich. (PRWEB) November 30, 2017
IXu announces the FDA has stated its plans for early 2018 to effectively allow new female condoms onto the market. IXu is pleased its VA w.o.w Condom Feminine will then have access to the U.S. market and consumers will have another choice after 25 years of a single female condom monopolizing the entire U.S. market.
"This is tremendous news for everyone," states IXu CEO Brian Osterberg, "deserving national attention as our sexual health and overall public welfare will improve as a result. Safe sex advocates have been waiting years for the FDA to take action on giving women more female condom options. Condoms worn internally by female partners have the greatest potential of any preventative method to reverse the serious global rise in sexual diseases."
No longer will American women need to refer to the current single choice as "the" female condom. It will soon be just "a" female condom, as other manufacturers enter the market and create long-awaited competition and innovation.
"Our VA worn-of-women condom could radically change sexual behavior, hopefully as birth control pills did in the 1960s. It's that good. Given our clinical study results and test marketing in Europe we make this assumption. Plus with our VA Vibe models which combine the standard VA condom with miniaturized vibration/pulsing accessories built-in on the condom's outer V-frame, the sky is the limit in terms of variety," adds Osterberg.
A new consumer market of many differing female condoms selling at retail for less than $2 per condom could reshape the traditional global condom market. IXu envisions as many different styles of female condoms as there are in the male condom category. The company sees their proven seller VA w.o.w creating a global shift increasing the use of female condoms as global non-profits will also provide the popular new designs to their social markets.