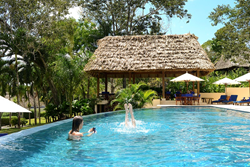 it makes a Belizean jungle lodge vacation incredibly affordable this winter
San Ignacio, Belize (PRWEB) November 20, 2017
The Lodge at Chaa Creek is joining Southwest Airlines and other carriers in offering travellers an early Christmas present – the most affordable Belize winter vacations yet, according to The Lodge at Chaa Creek's reservations administrator
"It's a match made in heaven for travellers," Elsie Pacheco said.
"When we heard that Southwest Airlines were offering heavily discounted fares to Belize, and in light of an increasing number of flights from other airlines, we felt we should respond with some specials of our own, so we're offering, for limited times, a twenty percent discount off accommodation, including a full breakfast and range of complimentary activities.
"When you look at the savings in travel and lodging, it makes a Belizean jungle lodge vacation incredibly affordable this winter," she said.
The Chaa Creek Travel Blog lists flights from Ft Lauderdale to Belize for as low as US$69.00 from 7 December to 14 December 2017, with Chaa Creek offering their own 20 percent discounts from 1 December to 14 December 2017, and 2 January to 15 January 2018.
Canadian travellers are also enjoying easier, more affordable travel to Belize this winter with WestJet initiating a new non-stop direct service from Calgary and Toronto to Belize beginning November 2017, according to the blog.
Ms Pacheco said increased international service, enhanced domestic air travel and Chaa Creek's infrastructure and nationwide network of travel affiliates are helping visitors get the most out of their Belize vacations this winter.
"Over the years Chaa Creek has earned the reputation among travel agents as Belize's 'Destination Within a Destination' due to the wide range of accommodation, amenities and activities on offer within our 400-acre private nature reserve, and for our extensive menu of tours, expeditions, and all-inclusive Belize vacation packages," she explained.
Ms Pacheco said that, with an onsite restaurant and lounge, Hilltop Spa, infinity pool, Belize Natural History Museum, Butterfly farm, canoeing, horseback riding and guided nature hikes though miles of well-maintained trails, Chaa Creek guests can design their own unique Belize vacations and choose to do as much, or as little, as they wish.
"And with our all-inclusive Belize vacation packages catering to a variety of interests and covering the country from the Belize Great Barrier Reef and Caribbean coast to the ancient Maya metropolis of Tikal in Guatemala, guests can explore all of Belize in one seamless and surprisingly affordable vacation," she said.
Airfare discounts and winter vacation specials have now made those Belize tropical holidays even more affordable, she added.
"With more extensive and less expensive air service, and Chaa Creek's winter vacation promotional offers, there's really no reason to endure a long cold winter when sunshine, swimming, excellent dining and exciting activities are just a few hours away and can cost less than a domestic holiday up north."
In addition to saving time and money, visitors are also helping to save Belize's pristine environment and support local communities through the Chaa Creek Cares i nitiative, which has ten percent of all room revenue going directly into environmental and social projects, Ms Pacheco explained.
"Our guests tell us they actually sleep better knowing that one out of every ten dollars they spend on their lodging goes towards protecting the land and helping the people of Belize. Combine that with significant savings, and you have a vacation that leaves you feeling great."
Ms Pacheco cautioned that airfares and Chaa Creek discounts are offered on a limited time, first come, first served basis.
"We encourage travellers to search the internet or check with their travel agents for the best airfares to Belize, and then visit our website and use the winter discount code to enjoy a twenty percent discount on accommodation with a full breakfast in the Mariposa Restaurant and a wealth of complimentary activities.
"Belize just saw another year of increased tourist arrivals, and I'm sure anyone taking advantage of these winter vacation offers will see why; and why so many people return to Chaa Creek year after year," Ms Pacheco said.
The Lodge at Chaa Creek is a multi-award winning eco resort set within a 400-acre private nature reserve along the banks of the Macal River in Belize. It was recognised by National Geographic with first place honours at the 2017 World Legacy Awards held in Berlin.